In the Vivacious news by Ramón Cerviño, we get a glimpse of the congress held last Nov. 24-25
By Ramón Cerviño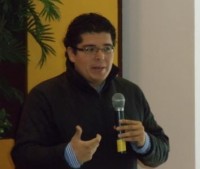 Title of the congress: "A Path Towards a New Wealth," the background of the congress having been the pretty little city of "El Diamante", near Puebla: 73 were the participants coming from various cities of this great country: Mexico City DF, Queretaro, Puebla, San Juan Del Rio, Jalisco, Guadalahara, Tehuacán, Acatzingo and others. At this congress could be counted entrepreneurs, students, workers, and some people who had just come to know about the EoC, and various younger people.
I had participated in the preparations of this "dream that is becoming reality" via e-mail exchanges and some skype communications; at a certain moment the thought came to me to participate in person, but it seemed rather impossible.
Suddenly, 5 days before the congress all difficulties melted away and I decided to start out. It was a long journey with many stops, starting at two o'clock on Thursday morning of the 22nd: from Cordoba to Panama (6 and a half hour flight), then 4 more hours to Mexico City (Mexico DF as the Mexicans call it). I arrived at 12:30, with a three hour time zone difference from Argentina. There waiting for me, was Jose` Medeiros, a student, specializing in Social Doctrine of the Church and with him I reached the City El Diamante, another two hours of travel away. We stopped to lunch on some very good roast beef and I had the occasion to get some info about him, on the situation in Mexico and on our congress. Arriving at the little city "El Diamante", a very pretty spot, I felt immediately at home among some old friends like Imelda and Takat.
Maria Luisa, Normita and Christian, the ones who gave life to the realization of this meeting (the 'heart' of this meeting one feels) arrived on Friday afternoon.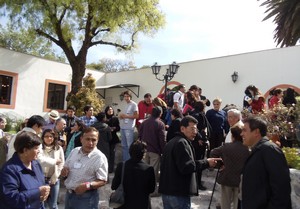 We saw the program together as well as last minute details and then we left for the meeting place. More than 70 people had registered for this occasion, more than we had thought would be able to come.
Saturday morning saw the arrival of the participants and the program began with greetings and presentations. Two were the topics that I feel characterized this particular day, in the morning the talk on 'Historical prospectives and the Charisms' by Rocío Abascal and the afternoon talk on 'Gratuity' by Christian Medina, businessman.
Different experiences were shared, as were times for dialogue and mutual exchanges to get to know one another. Before supper we had a question and answer period, and afterwards, we enjoyed a festive program with songs, sweets, and coffee… The atmosphere I felt reminded me of a song by Don Padilla, a priest who was among the first to carry the Ideal of Unity to Tucumán, Argentina: "Flying without wings…flying without knowing how to fly."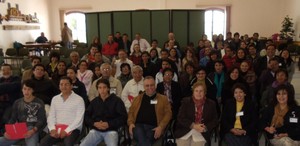 Sunday morning brought us two strongly felt moments: a video greeting by John Mundell from the United States in which John tells of his experience as an EoC businessman, from the beginnings of his company until today and a skype communication with Luigino Bruni in which Luigino faces some topics which I deem to be very important: the difference between the EoC of 1991, and that of today concerning the poor, the meaning of a charism, entrepreneurs, and communion...
At the end of this meeting, many felt the desire to express what these two days had meant for them: "It was very gratifying being with you... I will carry away with me some teachings that are very important in order to change the world and society... I am very excited to find young people here 18, 19 years old....," "I have finally found something which can express what I do and want to do...," "I seem to feel again what I felt when I first met the Ideal of Unity: the full life I wish to live. I thank the organizers and each and every one for this moment I am living." "I like to involve myself in economic matters, doing business and helping others through the very same: thank you for having invited me." "This congress has surpassed my expectations: we have talked about Industrial Parks: there is fertile ground available here: we wanted to build a company but we didn't know where to do so, and today we saw light, we wish to start it here so as to begin an Industrial Park, as we now also have the capital, we will be talking with the Commission…."
All right then, excitement and many concrete projects: we greet you all, dreaming about meeting once more, perhaps in July, for an EoC Summer School.