Title of First EoC Congress in Puebla, Mexico:
Economy of Communion:
A Path towards a new kind of Wealth.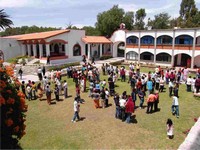 November 24-25, 2012
Little City of "El Diamante"
Acatzingo, Puebla ((Mexico)
Starting from the network of relationships inside a business, but extending its proposal to all economic relations, the Economy of Communion has experienced the transforming strength of giving: a giving which does not create distance between the giver and the receiver, but which keeps the two subjects close so that a relationship as peers may remain.
Under many circumstances, the Economy of Communion in the world has been able to obtain that which many advanced economic-entrepreneurial disciplines have hoped for: a horizontal and flexible working environment, that promotes creativity capitalizing on the scarce resources of an organization, a total quality in attentiveness towards, and care of clients, and an ethic of responsibility regarding society and future generations. However, the Economy of Communion is not a tool for organizational changes, but a charismatic view towards the myriad challenges and opportunities humanity is facing.
Poverty, in the final analysis, is a poverty of relationships, therefore, all of us 'are poor'. Humanity seeks happiness, but, as Plato said, and we all know this at the bottom of our hearts, there can be no happiness without passing through the dark, dangerous terrain of the 'other'. This is one of the many questions addressed by the Economy of Communion since its launching, within the Focolare Movement, in 1991.
See invitation
Online Registration before November 19: go to link
For more Information write to: This email address is being protected from spambots. You need JavaScript enabled to view it.