Conclusion of the First School 'Young People and the 'EoC' in Spain
By María Rodríguez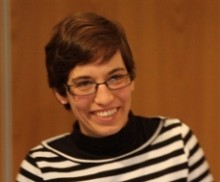 Madrid, November 4, 2012. – "We are all entrepreneurs because we have a life project in which The Economy of Communion has much to offer." This is one of the conclusions of the 1st School for "Young People and the Economy of Communion" held at Las Matas (Madrid) from November 1-4. More than 50 young people participated from the most diverse circumstances, ranging from ages 17 - 35: students, unemployed, casual or contract workers…
"We shouldn't be content with what is available and just go with the flow; we must think in a new way, innovate, aware that we owe something to society." Expressed a young student named Laura.
Today, as more than 5 million people in Spain suffer from job uncertainty and unemployment, particularly the younger generation (unemployment rates for young people is above 50%), in the current Spanish panorama, the Economy of Communion presents itself as a real and concrete alternative.
A model which puts the person at the centre and introduces solidarity and communion inside businesses: among workers and managers, with clients, suppliers, competitors... A model brought about so that 'there be no one needy,' in which businesses give a third of their company profits to social projects, without being paternalistic: not an "I give to you and you receive," but rather, putting emphasis on reciprocity: "I give to you, you receive, and give in turn."
The young people were able to see very concrete projects such as an Andalusian entrepreneur's gift to help finance productive projects in Bolivia,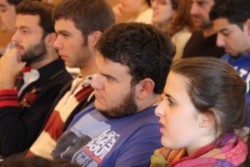 or in visiting the G.SC. Consulting business in which they were able to see close up how an EoC business functions, listening to experiences from two other businesses, Reciclabien and Drynuts; they were shown fundamental guidelines in how to manage an EoC business, all this interwoven with life experiences, such as the one by entrepreneur Francisco Toro, in the phyto-sanitary products: "It was a period of great draught. A client called me to order some products. I went to visit him and we looked at his olive trees together. They were too weak and I knew they wouldn't be bearing fruit. I told him I couldn't sell him my products. He looked at me and asked: "but you are willing to drive 200 km and not close a sale? Yes, I answered."
These testimonials and the practical experience of the entrepreneurial workshop reawakened in those present the desire to create EoC businesses. Among their ideas: a workshop for young businesses, an agency for young unemployed, a biological vineyard with an agri-tourism (a restaurant for tourists serving products from the owner's own land), a business making audiovisual productions with values….projects which will be studied for their possibilities.
But as Isaias Hernando, the program coordinator said, concluding, after having gathered the young participants' expressions "we are all entrepreneurs; maybe not all of you will start a business, but all of you will work on a life project which can be shaped by the Economy of Communion. In fact, the EoC is much more than a model: it is a style of life in which fraternity, communion and reciprocity are fundamental values."
This school, filled by moments of dialogue and communion, revealed that the EoC in Spain and over the world is living a new phase which cannot disregard youth and their enthusiasm. A greeting to all, and see you at the next International Summer School which will be held in September 2013: an appointment, the importance of which can be totally understood.
Go to Blog of the School
Go to Facebook Group