Changing the Economy… It's Possible!
1st School for "Young People and the EoC"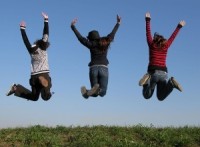 November 1-4, 2012
Mariapolis Luminosa Centre
C/Poniente 33 (Las Matas)
28290 Las Rozas (Madrid)
While in School…
We will discuss together how to eradicate poverty, we will discover the social dimension of business and the value of work…, we will bust myths and face fears on entrepreneurship, visit businesses, work together on projects, share experiences, expectations, dreams….
The convention is geared to young people with uncertainties, projects, and the will to bet on a different economy which will put the person at the center.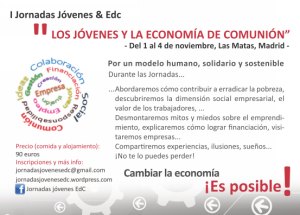 The program will include moments of in-depth looks at Economy of Communion with its principles and practical applications, as well as concrete testimonials of those who are living it. A workshop on social entrepreneurship in groups is also foreseen, in which to test the entrepreneurial talent of participants. There will also be many moments for personal encounters and dialoague. We wish this convention itself to be an experience in communion.
Visit our blog and join our group on facebook which has more than 200 friends already!
See invitation
See program
See flyer
Cost: Room and meals from afternoon of 1st day to lunch of 4th day (both included): 90 Euros.
Contact and Registration: This email address is being protected from spambots. You need JavaScript enabled to view it.
Blog: jornadasjovenesedc.wordpress.com
facebook: Jornadas jóvenes EdC