An interdisciplinary seminar at Loppiano that highlights the relationship between institutions and religious inspirations, which make their mark on civil life through a spiritual proposal.
When charisms speak 
By Giuseppe Argiolas
Published on cittanuova.it on 4/06/2010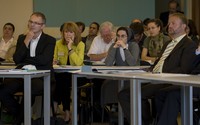 "It´s the first time that scholars of such a wide variety of disciplines meet with one another to ask themselves about the role that charisms have had and have in the theory and practice of civil life." With these words, Luigino Bruni, professor of economy and top expert on the Economy of Communion project, opened the working sessions of the international seminar titled, The Charismatic Principle in Economy and in Civil Life: History, Theory and Good Practice. The seminar was held at Loppiano from May 28-29. "We are truly happy," he said, "that this moment is taking place at Loppiano, and in particular at Sophia University and the Lionello Bonfanti Industrial Park, which are product of a particular charism and intend to be an expression of such."
Around seventy scholars were present. They belonged to the most various disciplines, from economy, sociology, law and theology, just to name a few. And besides coming from various parts of the world, they also belonged to different religions, or did not have any particular religious reference.
Sophia University Institute´s dean, Piero Coda, in the name of all the faculty, gave a very warm welcome. Coda highlighted the relevance of the event,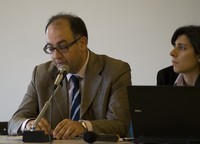 both for the numerous and qualified presence of scholars, as for the originality and timeliness of the topic chosen. Reference to the charismatic principle revealed itself to be in unique consonance with the very mission that Sophia received at its foundation, "teaching that Wisdom that lets us ´participate in God´s plans for humanity and design an embroidery of light for the masses,´ participating in their trials, in their sufferings and fermenting philosophy, theology, economics, politics, etc., with the leaven of love." These were the words of Coda, and he continued, "the university intends to be a meeting place, a laboratory of dialogue among people, disciplines, cultures - a home for all."
Therefore, the cultural prospects from which they considered the "charismatic principle and civil life" were multi-faceted. What emerged was that a charism can express itself both as an instrument of power or as a gift placed at the service of the common good. Just think of the undeniable communicative and persuasive talent of dictators that marked human events both old and recent, or the "meek" charism of men like Gandhi, Martin Luther King, Francis of Assisi or Benedict of Norcia. They are different ways of contributing to the world´s history.
In fact, Bruno Frey based his presentation on the thousand-year tradition of Benedictine Abbeys. He highlighted how this experience has much to say to the way in which organizations - including businesses - can be governed in our times.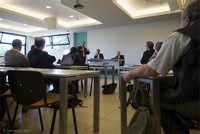 Between plenary sessions and workshops, many were the notable scientific presentations that highlighted, among other things, the impact that people like Martin Luther King, Teresa of Avila, Josemaría Escrivá, Chiara Lubich and others had on various dimensions of civil living. "In today´s business life, a manager´s l´ars combinatoria (combinatorial art) must be able to manage the motivations connected to values in civil life", affirmed Stefano Zamagni, Italian economist.
What emerged from the conclusions, presented by Luigino Bruni, Helen Alford and Barbara Sena, was that the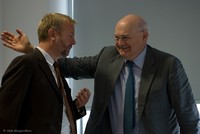 charismatic principle can still offer prospects and new pathways for the future of civil society. At the same time, charisms and institutions are called to live a continual synergistic relationship, where the innovative strength of a charism is accompanied by the spreading strength of the institution. The good that arises from a single person or a group, thanks to institutions, is offered to all and benefits all.  One example is the Economy of Communion. It arose from a charism, that of Chiara Lubich, and was proposed to the entire church by Pope Benedict XVI in the encyclical Caritas in Veritate.
And the meeting could not lack an artistic moment! Paolo Vergari offered his piano music, and it was excellent, "a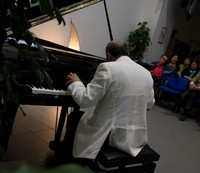 truly charismatic moment," as someone defined it.
The success of this initiative encouraged the organizers to plan an agenda of shared work for the future. It was a laboratory of life and not just of thought. We can have trust, and not just in a politically apathetic way. We´re dealing with trust based on actual facts and data. Charisms still speak, in the Church and in society, but one cannot just sit and observe. There is need to listen and to help bring about fruits.
see photogallery