7th Meeting of Formation on the Economy of Communion
"EoC: a proposal of economic behavior for Spanish society today"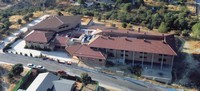 May 15-16, 2010
Mariapolis Center Luminosa
C/Poniente 33 (Las Matas)
28290 Las Rozas (Madrid)
Tel. +34 91 6301092
The meeting is geared towards people from all of Spain who already participate in the EoC project, but it is also open to all those interested in knowing more about this proposal of economic behavior, based on putting person at the center of economic activity and potentializing important and necessary values like fraternity and the culture of giving. During the meeting, there will be presentations and life experiences that deepen these aspects of the EoC, and there will also be moments of dialogue between participants. There will also be a presentation on how this innovative culture is spreading in different environments of human activity in many countries.
For information and to register, contact:This email address is being protected from spambots. You need JavaScript enabled to view it.
Register by: May 6, 2010.
See program and detailed information