The first EoC Seminar at a Chinese university took place at the Overseas Chinese University (OCU) at Taichung, Taiwan
Taiwan: Much Attention to the Novelty of the EoC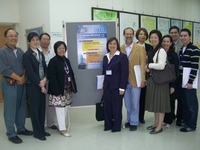 A few days ago, we posted news about the first seminar on the EoC to be held in a Chinese University. It took place last March 26, as part of the International Conference on Corporate Social Responsibility at the Overseas Chinese University (OCU) at Taichung, Taiwan. Presentors included Tita D. Puangco, President of Ancilla Enterprise Development Consulting and Teresa M. Ganzon, Managing Director of Bangko Kabayan, Inc., both entrepreneurs of the EoC in the Philippines. Around 350 students and professors from various universities of Taiwan participated in the conference. The conference was opened by the President of the Overseas Chinese University, Dr. Te-Ho Wu, who highlighted the importance the university wanted to give to this event.
Prof. Teresa Tsai, a long-time resident professor of business in the same university, introduced the seminar, delineating the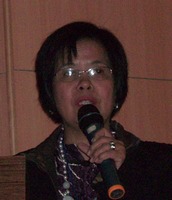 difference between how EOC enterprises and usual for-profit companies order their priorities. She also pointed to the EOC as an example of companies whose practicesreflect the pursuit of the triple bottomline (people, planet and profit), as CSR advocates. The papers read by Tita Puangco and Teresa Ganzon on the practices of their companies according to the EOC principles were well-received, particularly by the small Catholic group from the Archdiocese and a professor from the Fu-ren Catholic University of Taiwan.
The day after the conference on CSR, Teresa and Tita were invited to the Fu-ren University in Taiwan, a prestigious academic institute whose origins traces back to the early days of Taiwan, having originally come from China. Meeting with the Dean of the School of Business Management, Prof. Michael Lee, both speakers were invited a second time to participate and present the EOC in July 2010, this time in an International Conference on Social Enterprises. "We are seeking to differentiate our business education and feel that social entrepreneurship and other models of enterprises could provide this difference, " affirmed Dean Lee.
A few days after the encounter in Taichung, Tersa Ganzon received an email from a conference participant who enthusiastically announced that, together with a core group in the diocese, they were setting up an EOC enterprise.