Today, at the Buddhist-Christian seminar in Chiang Mei, Benedetto Gui and Teresa Ganzon presented the Economy of Communion
EoC: a sign of hope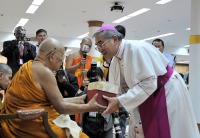 The 4th Buddhist-Christian Symposium, begun February 1, in Chiang Mei, Thailand, is nearing its conclusion. Today was dedicated to the theme of the financial crisis. In an auditorium of Buddhists, Christians and Muslims, Benedetto Gui and Teresa Ganzon presented the Economy of Communion project. Here we´ve put Benedetto Gui on the hot seat, right from the symposium´s hall, to ask him how it went.
Benedetto, what is your impression of this interreligious symposium?
what´s touched me above all is how here, in Thailand, you strongly feel the need of a different economy that is respectful of man. Thailand is a country under a powerful transformation because of the fast industrialization process, and you can really feel the loss of the traditions, of values. This is a big worry, especially to people who are religious. In this convention, we´ve moved beyond simply reporting this situation and focusing on the things that aren´t going well in the economy today, and we´re facing the fact that the world changes and that it´s necessary to seize the opportunities which this change offers.
In this context, how was the EoC experience received?
It seems to me that the EoC was received as a nice sign of hope. And here, in this context, this feeling is strong and concrete.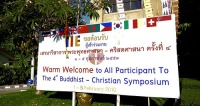 What I would like to say, perhaps, to whoever is hesitant to dive into this adventure, that the value of EoC´s small experience is huge, even at this latitude, and it goes well beyond its actual dimension. There is an entire world waiting for an experience that can include all dimensions of the human person. Participating in this symposium would be enough to strongly motivate anyone to adhere to the EoC, because it´s worth it! Another thing that I´ve noticed during these days refers to the creation of "structural greed": banks have served as "structures of greed" at an institutional level. And so, I´ve had an intuition that, in the same way, the EoC is something more than individual "generosity". It´s a kind of generosity, love, openess, that - however small - takes on a "structural dimension" because it generates a culture that characterizes an entire organization.
Is there anything else you can tell me about your presentation on the EoC today?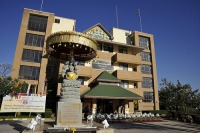 I presented the EoC project in general, while Teresa presented the experience of her business, the Bangko Kabajan. The experience was greatly appreciated becaues it´s so complete. In fact, the Bangko Kabajan isn´t a business that limits itself to producing profits to give to the EoC. It also deals directly with the poor, and it treats them according to the culture of giving, and this is "something more" that has particular value. The Bangko´s clients are poor families from the villages, but it isn´t doing "charity", because the bank´s books balance out. It "does business" but with the culture of giving, and the result is that these people can grow, from both the human viewpoint as well as the social one. Teresa concluded her presentation by sharing the comment of a woman who had received a microcredit from the Bangko. She said that she was very happy about the relationship established with the Bangko because, now, "she has more friends than before". This happens because the way in which these people are treated is that of the culture of giving. The Bangko makes business transactions that are also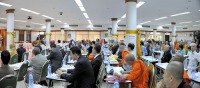 opportunities for people to grow and, therefore, to be able to get out of their situations of isolation and abandonment.
Any final notes?
Yes. As a final note, I would say amazement, the surprise of seeing how, even here, the charism of unity is capable of bringing about a miracle: seeing people belonging to worlds so far apart, who then discover themselves as brothers and sisters and can combine their hopes.