The Portuguese edition of Luigino Bruni's book has been published: two presentations in the next few days in Portugal
The Wound of the Other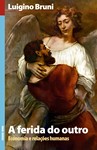 November 3, 2010, 18:30
Università Cattolica 
Auditório Cardeal Medeiros 
Eixo Norte-Sul, Palma de Cima, 
1649-023 Lisbon
November 4, 2010, 18:30
Università Cattolica Portoghese - Porto,
Campus FozRua Diogo Botelho
1327, 4169 - 005 Porto
They are two appointments that the Portuguese Catholic University wanted to organize to present Luigino Bruni's book, The Wound of the Other, which comes out today in Portuguese. The events will take place at the two campuses of the Portuguese Catholic University, in Lisbon and in Porto, on November 3 and 4, with the author present.  
In the actual context of the country, marked by worrying paradoxes, the
Catholic University wants to welcome the opportunity presented by this paper
, which, with the proposition of a new relational paradigm applied in the economic environment, opens the way for hope and "efficient" creativity. 
See invitation for Lisbon
See invitation for Porto
Despite the hardships of its history, Portugal has been able to strongly maintain its sensibility to the "values" of man, probably is the best capital at its disposal today, both presently and in the future.
This is the humus with which the Catholic University is preparing itself to welcome the thought of Luigino Bruno and the challenge of applying the principle of fraternity to the market sphere. 
Besides the author, others will also speak at the book's presentation in Lisbon: Jorge Libano Monteiro, general secretary of ACEGE (Christian Association of Entrepreneurs and Administrators), and Alfredo Dinis, dean of the philosophy department at Catholic University. Filipe Coelho, economist, will moderate the event. 
There will also be two presentations in Porto by Américo Carvalho Mendes, professor of Economy and director of the Masters in Social Economics in the Catholic University's department of Economy and Management, and Pedro Lopes Teixeira, professor of Political Economy for the University's Economy department in Porto. Numerous people involved in the economic and social spheres, from academics to entrepreneurial, will participate.
The Focolare Movement and the Portuguese entrepreneurs of the Economy of Communion have collaborated to make these events possible.