More than 80 participants from 8 different countries
The EoC Congress of Northern Europe begins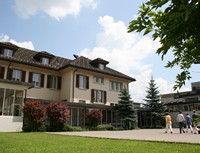 Tonight with dinner at 18:30, the much awaited Northern Europe EoC Congress beings. It will be a chance to happily meet again with everyone, a year after the congress in Roselaar, Belgium, with much "EoC life" to share with one another.
There are more than 80 who will participate, with a good representation of the Swiss (who are "playing at home"), the French, the Belgians, Austrians, Germans and the Dutch. Italy and Luxemburg are also represented. Four different languages will be spoken, with a majority being German, followed by French, Italian and Flemish.
The actual program will begin on Sunday, October 22, at 9:00 AM. We'll keep you up to date from this site on how the events unfold. Best wishes to the participants!