In Paranà, in Argentina
24th meeting of businesses that adhere to the Economy of Communion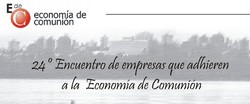 11-13 settembre 2009
Mariapolis Center "El Salvador"
El Brete, Paranà, Entre Rios
The meeting is geared towards all those interested in the new challenges proposed by the EOC, in both economic and social practice and thought.
The occasion is the 2nd annual meeting which traditionally takes place in Argentina. These meetings, held in various cities, reveal themselves to be moments of deep communion. It´s usual to observe the amount of life and the journey already taken by the others illuminates the walk of each one of us and helps us to go ahead.
Up until today, more than 120 participants are registered, including four from Uruguay and one from the Tierre del Fuego, more than 3000 KM away.
program
will begin Friday at 15:00 with a tour of the EOC businesses of Paraná. Then, Saturday morning, we will analyze together the content of the encyclical Caritas in Veritate, paying particular attention to the chapters which best describe the EOC. This will be followed by the assembly of associates of the UNIDESA, the association which manages the Industrial Park, Solidaridad, in Mariapolis Lia, in O´Higgins.  In the afternoon, for who wishes, there will be a tour of the Paraná River, but this is not planned only as an excursion. The fisherman who live on the banks of the river near the Mariapolis Center have proposed a trip through the islands so that we may get to know their habits, as well as the flora and fauna of the area. There will also be a chance to help these people economically, who have been working in the Mariapolis Center´s community center for a long time.Saturday afternoon will include three forums on the following topics:
Forum I:    Internal Relationships of a Business: "Encourage results and award virtue"
Forum II:  New Economic Horizons: "Gratuitousness and Market"
Forum III: Entering the Social Sphere: "Public Responsibility and Happiness"
On Sunday, we will take a moment to reflect on a few aspects of Chiara´s proposal in order to conclude with one ourselves and exchange experiences among everyone.
The cost of the meeting is: $200. Confirmation of participation by: Sept.5, 2009. Later registrations will cost $250. This cost includes everything, from dinner on Friday until lunch on Sunday, sleeping arrangments in the Mariapolis Center in shared bedrooms (there is little availability for single or double rooms).