North American Economy of Communion Meeting
Person Centered Business: Hope for Today, Sustainability for Tomorrow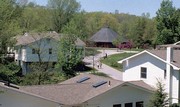 August 21-23, 2009 at 9.00 am
Mariapolis Luminosa
200 Cardinal Road,
Hyde Park, NY
2009 marks the 18th anniversary of the EoC.  A return to our roots, a look at today's accomplishments and tomorrow's goals along with the emerging collaboration between the businesses and academia will be featured.
Please join us!
A lifestyle of giving, of seeing each person as the pinnacle of our actions, brings to life a method of doing business that offers hope to our world especially in these troubled economic times. The EoC has been called a prophesy for a sustainable future. Come and join us as we share the latest developments in the EoC and explore this lifestyle of giving.
Excerpt from Chiara Lubich:

"...(W)ork is constitutive of the human person and in accordance with the intentions of God. It is such an important aspect of human life that if it were lacking, we would have to consider the human person as being less human.
"Human beings fulfill themselves especially through their work. Therefore, we should seek to carry out the economy of communion in the best possible way. Indeed, we should feel called to make of every hour devoted to it a masterpiece of precision, order and harmony."
Lodging at Mariapolis Luminosa (Directions to Mariapolis Luminosa) will be reserved on a first come, first served basis. Additional lodging is available at nearby motels.
** Please make your own arrangements at these motels, which do fill up since Hyde Park is a popular tourist area.
REGISTRATION FEE
EoC Members………….……..US$ 50
Non Members…………….......US$ 75

ACCOMMODATION FEE
Meals and Lodging at Luminosa* US$235
*based on Thursday after dinner arrival
Terms of payment
Full payment due by Aug 1st. Ten dollars($10) more at the door. Full refund for cancellations received in writing by Aug 10th.  After this date money is transferable to another person but is not refundable.
**Motels in Hyde Park:
Golden Manor (845) 229-2157
Super 8 (800) 800-8000
Vanderbilt (845) 229-7100
This email address is being protected from spambots. You need JavaScript enabled to view it. for more information: