Presentation of a new emerging CSR model: The Economy of Communion in Freedom Project
Global Sustainability and Corporate Social Responsibility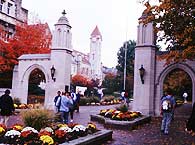 Wednesday, June 24, 2009
Indiana University, Bloomington, Indiana
International Studies Summer Institute 2009
201 n. Indiana Ave., Bloomington,Indiana USA

Presenter: John Mundell

The international community is currently facing three interconnected global crises: 1) unsustainable development and energy consumption practices that are using up the world's limited natural resources, 2) the financial system collapse resulting from unethical business behavior, and 3) unequitable wealth distribution between 1st world and 3rd world economies. And yet, with these problems facing us, there lies the hope of new projects and ideas which, when put into practice, greatly alleviates many of the existing concerns associated with these crises.
This presentation will define the ideas of global sustainability and corporate social responsibility and the relationship between the two. New sustainable energy projects currently being carried out in the Midwest United States with global implications will be highlighted. These projects relate to energy generation, distribution and material consumption and waste management. Finally, a summary of what the incorporation of Corporate Social Responsibility (CSR) principles into business practices can do to help address ethical and moral issues associated with unjust economic practices will be given.  Within this discussion, a new emerging CSR model will be described: The Economy of Communion in Freedom Project.  Its historical beginning in Brazil, its unique contribution to CSR practices, and actual experiences of businesses involved in its network will be described.  Finally, some specific examples of Indiana businesses' involvement in the development and management of an EoC International Youth Internship Program and global EoC Business Network website will be provided.

Resources:
Websites: http://www.edc-online.org
Magazines: The Economy of Communion - A New Culture, Alberto Ferrucci, Editor
Books: The Sharing Economy: Solidarity Networks Transforming Globalization, Lorna Gold