EoC Formation School for North Europe, to be held in Baar, Switzerland
Business behavior and communion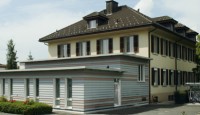 October 21-24, 2010
Begegnungs und 
Bildungszentrum Eckstein
Langgasse 9
6340 Baar (Svizzera)
Last year in Rosalaar, Beglium, there were 83 people who met: entrepreneurs and those committed to the EoC from 5 countries of Northwest Europe (Germany, Austria, Belgium, Switzerland and France). They had lived, despite coming from very different cultures, an experience of deep communion in a warm atmosphere of reciprocal trust, which one person defined as "thrilling". It was logical to decide to meet again, and so a date was set for October 2010 in Baar, Switzerland.
Today, that wish is being fulfilled in an EoC Formation School that will involve entrepreneurs and those interested in the EoC. Luigino Bruni and Luca Crivelli of the international EoC commission confirmed that they will also be there. They will give perspective as to how the EoC is today and its future prospects. Through life experiences of the businesses, the meeting will try to highlight the impact of the EoC on the activities and challenges that each business must face day after day. Working groups will be in German, Italian and French, with simultaneous translation in these languages.
General information:
Costs:overnight stay, lodging and contribution to the convention: CHF 370. Supplement for a single room: plus CHF 140.
Registrations are valid after payment in the following bank account:
Begegnungs– und Bildungszentrum Eckstein
IBAN: CH71 0078 7000 1705 1880 6
Zuger Kantonalbank, SWIFT: KBZGCH22XXX
Register through the attached form, also available on: www.zentrum-eckstein.ch, or by request by writing to: This email address is being protected from spambots. You need JavaScript enabled to view it.
Organization and information:
The convention is organized by the Economy of Communion of Switzerland in collaboration with the national EoC commissions of Germany, France, Holland, Austria and Belgium.
See  program in Italian
See  program in French
See  program in German