On September 11 and 12, more than 150 economic players from Argentina, Paraguay and Uruguay met in 
Montevideo for the 1st EoC seminar in Uruguay
Communion that brings about "new things"
By Carolina Carbonell and Silvano Malini
Meeting to compare notes in a fraternal atmosphere and share life, successful practices and failures: this was one of the main goals of the seminar which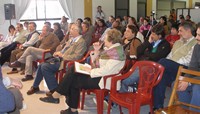 just took place in Montevideo. The other goal was to provide the "raw material", through the life of the EoC businesses and the understanding which has arisen from it, to elaborate new economic theory. Nothing less.
The person is the goal
Todo Brillo, a Paraguayan cleaning and building maintenance business, employs around 500 people. The fact that they aim at quality, transparency and personal well-being, without looking too much at the costs, has brought this business significant profits along with continued growth. Maria Elena González, the administrator, began her presentation with these words: "Today I won't speak about my business, rather about the business of Another." She was referring to He whom many EoC entrepreneurs call the "hidden shareholder" (God).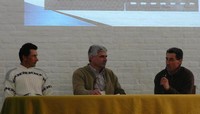 Human relationships and personnel management are the "added value" claimed by Domus Aurea, a construction business that works in Montevideo and the surrounding areas. Teamwork, absolute transparency in decision-making, opportunity for growth and personalized attention to each person's needs are the ingredients of a business where work is lived joyfully.
Marta, Sergio and Tita started the TyM boutique in the city of Las Piedras. "To do so," they said, "each one of us put what we had in common: knowledge, machinery, tools, but most of all our interior strength." With great simplicity and conviction, they told us how their business has placed its bet on generosity and growth. 
But there are more than just industrial businesses that live the EoC principles. The participants of the seminar were convinced also by a first-hand visit to Nueva Vida, an integral educational center of the Focolare Movement in the neighborhood of Borro, in Montevideo. It is a social work "of communion".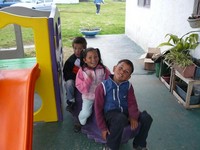 More experiences
Other businesses shared their experiences. La Sagrada is a business in the province of Buenos Aires that produces cans and other dairy farming products of quality. The couple that runs the business passionately told about the intervention of the "hidden shareholder".
One associate of a metallurgical engineering company of Mendoza told us about an experience in living this culture of giving even when not shared by all in the business.
Then, Mario Breccia, owner of Electrodomésticos Breccia, decisively shared that his desire that his business be a "model" of a society where all are included. Therefore, for the last few years, the business has brought ahead various programs to offer work to those with different abilities: teens from ragged neighborhoods, youth in drug-detoxification programs and ex-prisoners. There are positive experiences and sometimes also negative ones, but Mario goes ahead anyway because what counts is having created fraternal relationships with those who are excluded from today's society. They are decisions that seem irrational to the current economy but which offer unexpected results.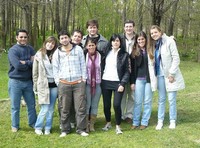 Finally, 10 employees of Dimaco, a business in Paraná (Argentina), shared their experience together: they told how they live the culture of communion in the business, how they overcome conflicts, how they relate with their suppliers, neighbors and directors. Natalia, one of them, thanked the owner for the chance to assist in the formation of new men and women by participating in the reinsertion of an ex-prisoner as employee.
John Mundell, through an internet conference from Indianapolis, USA, shared how they apply the EoC principles at Mundell & Associates, an environmental consulting firm which he began. In the business, the performance of personnel is evaluated based on all the aspects that the culture of communion sheds light upon: from harmony of the facilities to rest, etc. Three youth who are doing an EoC internship at Mundell & Associates - Florencia from Argentina, Alejandra from Chile and Katarina from Slovaccia - also participated in the video conference. "EoC businesses are successful, they go ahead thanks to the values that they live and not despite of them," affirmed John Mundell.
Forty youth who were present at the seminar were the protagonists of one of the workshops. Many are interested in knowing more about the experiences of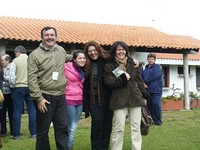 those who have already taken up the EoC as entrepreneurs. That brought about an idea: Luis from Paraguay and Juan Pablo from Uruguay proposed "forming a Latin American EoC youth network", "as a bridge between the businesses that want to adhere to the internship program and the youth who wish to participate in it." The idea is "learning while doing", even with the EoC. Some of these youth have already given life to a small study group on the EoC.
These are a few of the unplanned developments, sparks of the novelty that arises from the very dynamic of communion. They are things that happen, as those that happen to these "crazy" entrepreneurs who think about workers before "numbers". They are things that one witnesses, as one of the participants said, almost like simple spectators of a great work.
Photogallery: