SOLIDAR-ONE
1st International Forum about solidarity and international ccooperation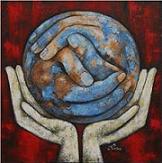 30th novembre 2008, 2 p.m.
Auditorioum Ranieri III
Boulevard Louis II,
98000 Principato di Monaco
Solidar-One
represents a worldwide event, aiming at deeply examining the concept of solidarity from the point of view of cooperation and dialogue between countries of Europe and emerging countries.
Particularly, the debate will be about the new ways of cooperation and solidarity to support indigent populations, which should allow the supported ones to maintain the stimulus to continue their self-determination and self-evolution, preventing support to become a justification for idleness".
Valutare dunque, in che modo sperimentare nuove forme di economia e sostegno solidale, per quanto utopistiche, o ritenute tali all'interno di quello che è il quadro attuale delle condizioni di forza, o meglio di reciprocità, fra Paesi "ricchi" e Paesi "poveri".
L'analisi sarà condotta attraverso il confronto tra "Testimonial" privilegiati appartenenti ad ambiti e realtà diverse che, sulla base delle esperienze maturate e degli insegnamenti acquisiti, possano spiegare e diffondere il senso della solidarietà inteso come reciprocità.
Due sono i principali obiettivi che l'evento si prefigge di raggiungere:
1 - DIFFUSIONE DI UN NUOVO MODO DI VIVERE L'ECONOMIA come atto di solidarietà e di reciprocità tra gli uomini e tra i popoli, derivante dalle esperienze e riflessioni degli interlocutori "privilegiati" intervenenti al convegno.
2 - AZIONE CONCRETA:in favore dei Paesi Emergenti dell'America Latina. Più in particolare è prevista in una raccolta di fondi da destinare ad opere caritative a sostegno dell'Associazione "Casa do Menor" " che, attraverso l'azione solidale e concreta dei suoi volontari, presta il supporto ai ragazzi delle favelas del Brasile e dona loro una speranza di recupero dall'inferno della strada.
Il primo obiettivo sarà raggiunto attraverso l'approfondimento e il dibattito nell'ambito del convegno a cui parteciperanno i Testimonial internazionali.
Il secondo obiettivo sarà legato alla rappresentazione del Musical "Street Light", del quale sarà protagonista il gruppo internazionle "Gen Rosso" impegnato da lungo tempo nella diffusione di messaggi di pace e fratellanza attraverso la musica, in tutti i Paesi del mondo.