By Simona Di Ciaccio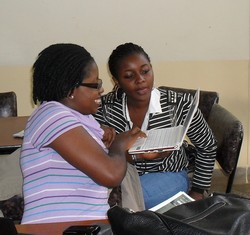 "The EoC, vehicle for human Development in Africa".  This synthesis was made by a student at conclusion of course on Economy of Communion, held at the Catholic University of Oriental Africa (CUEA).  Participating students came from Kenya, Tanzania, Uganda and Cameroun with three representatives from Buea University, who came with the purpose of gathering better knowledge on this theme which they intend to include in their future course of studies.
The compact two week format had begun with lessons by Vittorio Pelligra in week one.  I arrived to take part on week two of the course with the hesitancy of one who knows she is about to face a major challenge, while at the same time being given a great chance; that of speaking to young Africans about economic development and communicate to them responsibility and passion for it. I didn't quite expect it to go the way it did:  from the very start, lesson participation was positive, passionate and constructive.  The highest aim of the EoC was understood by each one:  "to integrate human relationships in economy and to favor development and equity"; "The EoC wishes to help people, but above all it aims to create real and just social relations."
At end of course each participant made a five minutes synthesis of what they would be taking away from these two weeks, and declared their own future commitment: "declarations" which transmitted above all else, what was lived together.

With the typical expressiveness of African people, a student stated that the goal of the EoC is not to give someone a fish, or to teach someone how to fish, but to fish together.  
"This course has shown us that it is possible to reach human development and close the gap between rich and poor.  The EoC proposes an anthropological relational approach in economic activities to be able to put a break on injustice through redistribution of riches, as practiced by the first Christians.  The EoC underlines the universal principle of 'giving', of sharing, and of reciprocity.  The culture of giving promoted by the EoC should not be confused with the philanthropy we often see, with the poor as objects of pity."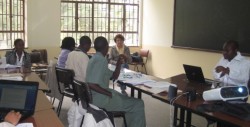 "Poverty has many dimensions beyond the material one, the psychological one being more difficult to measure but no less important, for example; feeling shame and humiliation. To put an end to poverty we need a just distribution of wages but this is possible where there is an environment which promotes the culture of sharing and which has a strong altruistic sense, as well as an "aversion for injustice." In fact, the idea that Chiara had of the EoC came about from seeing the indelible injustice between rich and poor characterized by skyscrapers surrounded by slums, in Brazil." 
""We as protagonists and witnesses of the EoC must be like diamond tips, ready to spread values, instruments and objectives so as to bear fruit that is equitable and sustainable.  We must create courses of education, change behaviours, especially here in Africa, and involve others in the decisional processes aimed at participation in meaningful projects which will ameliorate quality of life.  This is, after all, the meaning of development, being able to make meaningful choices."

When the moment came for each one to declare the kind of concrete commitment they would take on, I was surprised and moved as I listened to them.  A student declared she/he was going to do her/his thesis on the EoC and that she/he will insure that CUEA has an EoC program permanently included in its curriculum.  After graduation,  she/he would like to be able to go to Sophia University to continue her/his studies and will seek a scholarship that will enable her/him to enroll,  all the while studying Italian in preparation.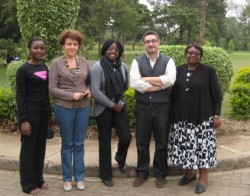 Two young people (with degrees in business economy and information) have decided to jointly open an online publicity business.  They wish to include in their mission statement the commitment to give part of their profits to start scholarships for young people like themselves, so that they may study and get established in the workplace, and in time, as their earnings permit, do the same for others, contributing in this way, to building a 'virtuous circle" for development. 
The students have decided to start a 'Community of EoC students at CUEA', an online network which will facilitate the interchange of ideas and experiences among students who have started or who frequent the course from the previous year.  We know for a fact that two of them have immediately opened a small business for bricks and motorcycle resale, and it will be very useful to get to know their experiences so as to learn from one another. 
"Development is commitment. We want to become Agents of change' concluded a young Tanzanian, synthesizing his feeling of responsibility towards his family, his community and his country, matured in each of them during this two-week course.