Held from July 7-15 at Arny
By Anouk Grevin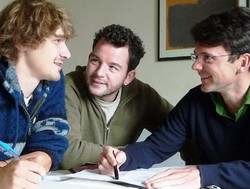 It was the first experience.... but it is worth repeating! This was the unanimous opinion of the twelve participants at the Workshop on Economy of Communion held at Arny (near Bruyere-le-Chatel) from July 7-15 2012. Coming from very different horizons, the 12 young people present were at Arny to work on projects of business creation in the spirit of the Economy of Communion. We can say they lost no time, as they concentrated with fervor for eight consecutive days on the projects three of them had elaborated: a retail outlet with products from the local farms in the Vallesane Alps in Switzerland, a consulting enterprise to organize occasional seminars putting together generosity and human adventure, or, lastly, a network of seamstresses who would sew 'made to measure' clothing for people with handicaps.
Accompanied by the advice given by entrepreneurs of Economy of Communion who one by one brought their testimony and their competences, the young business creators little by little worked out their 'business plan', which they presented to some professionals of the business world on the last day.
But we can say that what those 12 young people lived during those 7 days has been a real and proper school of communion. The meetings were intense to the point that they did not avail themselves of the programmed breaks, and it happened because each exchange was an occasion for profound communion and for a rich sharing of experiences.
To combine the economic dimension with the ideals which each one carried inside was definitely a challenge, the difficulty of which none of them ignored, but the challenge is immense, a young man, the youngest of the participants present, forcefully reminded all: we're talking about changing the world!
They all left with hearts full of enthusiasm and very decided on putting their talents to work in building the economy of gift and gratuity to which we all aspire.