The appearance of a new EoC spring has been entrusted to the youth, at the conclusion of the EoC School 2012.
by Daniel Fassa
Published on cidadenova.org.br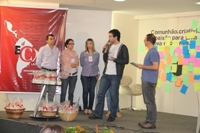 The morning of the fourth and last day of the Latin-American School on the Economy of Communion was a moment of 'recollectio,' not in the sense of recalling a past event, but one of 'bringing back to the heart.' as is suggested by Italian etymology (ri-cordare). In this athmosphere, Luigino Bruni introduced the video which recorded the moment that Chiara Lubich, foundress of the Focolare Movement, launched the Economy of Communion in May 1991, during a Conference held at the Araceli Mariapolis Centre in Vargem Grande Paulista, in San Paolo.
Chiara had said at that time:"...an idea is born here: under the impulse of the communion of goods that the Movement has always practiced. Industries should surge up, entrusted to competent people who would put profits in common. In this manner, there should come to be an Economy of Communion of which this city would be a model, a pilot city. We want the profits to be put freely in communion with the aim of aiding the needy, offering them better living conditions and the possibility of a job. And also, to make the companies grow, naturally. And lastly, to develop the structures of the Mariapolis, in order to promote the formation of 'new men and women' because, without 'new people' society cannot be renewed."
These were words which the other participants of the Latin-American School listened to with solemnity, almost as if this was a new foundational moment, evident by the presence of a great number of young people, to whom Bruni entrusts the emergence of a 'new spring' for the EoC.
"I think that the great difference of the EoC, in contrast to other economic proposals, lies in the fact that the business owner is put at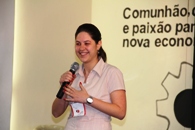 the same level as the worker who is considered his brother. He must renounce many things and he will get nothing in return. It is a radical choice. I see a vast horizon, a hard job to face, but which, according to me, is not a problem," said enthusiastically young Manoel Carvalho Gontijo, from Salvador-BA.
"Since I started University in 2005, I always wanted to participate in the EoC Congresses. I have been following this project for 7 years and I did my theses on it. I have a great admiration for the EoC pioneers, those very first business owners who adhered to the proposal, but now I feel the need for a new turn. The time has come for me to personally take on this responsibility, without fear, and to go forward. We still have a lot to do", underlined Silvia Martì from Porto Alegre-RS, in a moved voice, thus committing to the project.