On July 8, the first Eoc School concluded in Chile. It was organized by two Chilean Catholic Universities, 'Silva |Hernriquez' and 'The Holy Conception,' together with Sophia University Institute.
By Antonella Ferrucci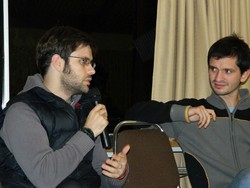 This school had been greatly desired by professors of both Chilean universities, who thought of letting their students know about the economic model of the Economy of Communion as a concrete answer to the "provocations" of Pope Benedict the XIV in the Encyclical Caritas in Veritate.
Let us ask Sophia University professor, Benedetto Gui, to give us an impression of this first school in Chile….
"At this very moment four groups, comprised of 7 to 8 young people each, are talking intensely together, one in the reunion hall, another on the green space outside (today is the first day of sunshine and sitting on the grass feels good, with the snow-covered peaks of the Andes almost above our heads; but its freezing at night!). I think that this four-day retreat, close to the mountains at the Salesian Fathers just outside of Santiago, is a very new experience for them.
The messages they have been receiving are also very new. Their interest in knowing more about this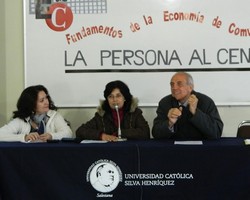 phantom EoC project - which their professors had been going on about - was very evident the first day during the introductions. They are students from both Catholic Universities. In these two and a half days they have received many stimuli indeed. We can say today that they have been able to metabolize them. This morning there was a very beautiful moment of dialogue with many of them participating, some expressing both satisfaction and gratitude for what they have received and shared, others asking questions in order to understand better or making surprisingly well-chosen comments.
Could you give us a concrete taste of a moment during this school??
I'm thinking back to a testimony given in the early morning on the 7th of July, by Bettina Gonzales with a grit worthy of her best days as a tennis player. She is the owner of an EoC travel agency in Buenos Aires and from her words emerged a big decision to respond to the ethical and organizational life of a business. In sharing her experience, Bettina communicated a way of dealing in business decisively against the current: about clients to whom she suggested a postponement of their travel plans until a better,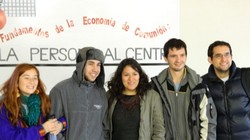 more tranquil moment for their family; of television networks who wished to interview them about their innovative initiatives in social tourism, something which would have given them un-hoped for publicity, to which they replied that they should go to interview the people of the villages where their clients went holidaying instead; expensive travel deals to renowned falls during the weekends… which they turned down because they had been informed that an excessive number of tourists visiting this location at the same time would have risked scaring the area's fauna; and so on… .
As one may imagine, these students caught the peculiarity of this way of doing business, of the life within it....... Now, at program's end, we can imagine that it will have truly meant a starting point for the birth of EoC businesses in Chile: what better way of achieving this objective than forming young adults in it, who by nature carry within them enthusiasm and creativity? Our best wishes obviously go all in this direction!
Go to the blog of the school
See photogallery