Significant interest in the EoC session was shown by attendees at the International Eucharistic Congress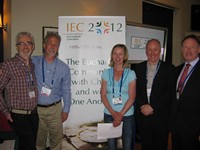 On June 14, 2012, five members of the Focolare presented "The Economy of Communion – A Model of Business Based on the Gospel" at a workshop held at the 50th International Eucharistic Congress in Dublin, Ireland. Mr. Donal Lawlor, head of the EoC Ireland Commission opened the session with an introduction of the EoC and its developments over these past 20 years
Reverend  John McNerney Head of Chaplaincy at University College Dublin, then gave a reflection on the Economic Crisis and the Crisis of Economics, with the EoC offered as a way to "recapture the truth of the reality of the  person-centered dynamic at the heart of the free market economic system". 
Mr. John Mundell, CEO of Mundell & Associates, Indianapolis, Usa and Paul O'Connolly, an optometrist from Ireland, both gave personal experiences of running EoC companies and living a business lifestyle of communion in their work environments. 
Finally, Dr. Lorna Gold, Policy and Advocacy Advisor at the Catholic Development Agency, Trocaire, shared about the global spread of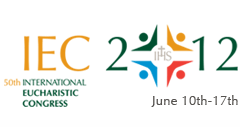 the project and in particular on some of the ventures funded by the EoC and how these are in some way a new model for helping those in need with human dignity.
Significant interest in the session was shown by attendees at the Congress, with over 100 people present for the session, and more than 100 who were turned away because of limited seating.
"It was a really beautiful experience to be able to connect the experience of our union with God in the Eucharist, with the way in which we can love our neighbor in our business lives," said John Mundell.
Reports are available in English: