EoC presentation last June 12 at Cap d'Ail, near the Principality of Monaco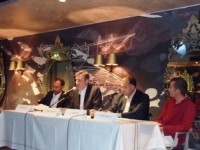 by Antonella Ferrucci
There were about fifty people, among whom entrepreneurs, ambassadors and other professionally- interested people, at the presentation of the Economy of Communion, organized by the Monegast association Solidarpole, this past June 12, 2012. The very particular venue chosen, the A'Trego Restaurant, located in the midst of the touristic port of Cap d'Ail, took nothing away from the simplicity and the "friendly" atmosphere which according to the intentions of the organizers of Solidarpole, Carlo Pigino and Fabio Vitale, had to characterize the evening's encounter.
The presentations of the EoC project, given by Alberto Frassinetti, and the talk on "Economy of Communion: an antidote to the crisis?" given by Luigino Bruni, were greeted by interested listeners. The project "From the Street," presented by Francesco Tortorella, gave concreteness to what the other speakers had said.
The specificity of the EoC project has emerged with evidence, that is, that it does not intend to fight poverty with social assistance but by creating new work through the inclusion of those disadvantaged people who are then brought into the economy.
"The Economy of Communion is certainly only a seed in contrast to the big business that moves the world", said Luigino Bruni, "but it is a seed with a great potential in its DNA." And again: "The gravity of the market, contrary to what one may think, is not egoism (selfishness) but that mutual advantage which implicates reciprocity." "Today, as in any other epochal crisis that happened in history, there is a need for a new spirit: what is the spirit of an EoC businessperson? It is that of a person who does not rest at peace while there are people who are dying of hunger."
After the presentation, there followed a dense exchange of questions and answers which was then followed by dinner on the terrace of the A'Trego, characterized by a presentation on the activities of the Gen Rosso musical group.
But it won't end here: this is only a first little seed. Solidarpole has organized an event with the precise aim of bringing about concrete initiatives of communion even in that seemingly uncontested reign of richness and capitalism. We will speak more on it.