A seminar by Stefano Zamagni organized by USEC, the Social Ministry of the Chilean Bishop's Conference and Silva Hernriquez Catholic University
Towards civil economy and economy of communion, in light of Chiara Lubich's thought and the encyclical Caritas in Veritate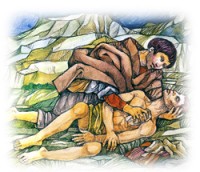 August 19, 2010, 17.30
Pontificia Università Cattolica del Cile
Salón de Honor
Alameda Libertador Bernardo
O'Higgins Nº340 (Outreach Center)
Santiago (Chile)
The aim of this seminar is to introduce the Chilean Catholic community to the thought linked to civil economy and economy of communion. Following Stefano Zamagni's presentation will be a brief video of Chiara Lubich on her experience of the economy of communion and a round table including: Rolando Rolando Medeiros, President USEC, Vicente Caruz, President of the Society of North-South Inversions; Luis Riffo, Teologian and Vice Grand Cancellor of the Università Cattolica de la Santísima Concepción. Moderator: Alejandra Marinovic Guijón, Ph.D. in Economy, Columbia University NY, professor at the Università Adolfo Ibáñez. There will then be time for dialogue and conclusions handled by Nello Gargiulo, Executive Secretary of the Fondazione Cardinal Raul Silva Henriquez.
See invitation
See program
To register: www.fundacionsilvahenriquez.cl - tel.: 4601197 and 4601214 (plus the telephone area code for Santiago, Chile)
Stefano Zamagni has a full schedule for August 19 in Santiago, Chile. Besides this seminar in the afternoon, the professor will meet in the morning with more than 450 entrepreneurs as part of a USEC-ICARE conference on "Business and Happiness". He will also be interviewed and will meet with a small group of entrepreneurs and economists belonging to the CENTRO DE ESTUDIOS PÚBLICOS, (CEP), considered one of the most prestigious Chilean think tanks.
Stefano Zamagni is an economist and professor of the University of Bologna and a member of the Pontifical Council for Justice and Peace. He is author of numerous publications and fierce supporter of the propelling role of civil society for balanced economic and social development. In his papers, he shows great trust and passion for the study of new forms of economy, centering on the human, civil and social responsibility of each person that is capable of taking on and promoting production processes to create efficient and effective businesses.