Maria Voce: "You bring about communion, which has an incalculable value that cannot be measured."
By Carolina Carbonell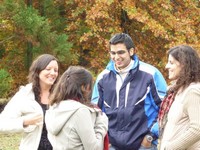 A group of 100 people, comprised of entrepreneurs, employees of EoC companies, students, those interested, media people and scholars, among whom many young people, met on May 12-13 at the Mariapolis Lia, in O'Higgins, near Buenos Aires (Argentina), to participate in one of two appointments which are planned each year for the Argentinian "EoC world"; one in autumn in the Mariapolis Lia, the other in the spring in another part of the country.
It was a splendid encounter, filled with many rich moments dedicated to communion, perhaps the most important product of these companies which act with a different logic, as Maria Voce, president of the Focolare Movement affirmed in a recent visit to the Solaridad Industrial Park: "You give priority to communion and this is the most important thing. Maybe you think about the millions that Bill Gates, for example, gives in order to overcome material poverty, and he does a good thing. But you are called to produce communion, which has incalculable value that cannot be measured."
Many of the participants' impressions underlined this. Javier, from Oliva-Cordoba, for example, said that "the great openness on the part of the participants who shared their experiences with all those present, without reserve, differences or egotisms, was like being able to look at communion face on,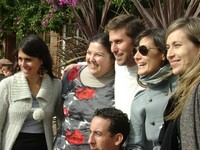 as if it could be touched and lived."
Another very positive moment underlined by various people was the participation of some employees of these EoC businesses. Cesar, from Mendoza writes: "I think I have understood that a company is not just the owner; even if at times it is a suffered experience, when for some reason the employees don't 'make the grade' and the companies feel the pinch economically."
The meeting ended with a "see you again" in September 2012, in Santa Maria de Catamarca, and with a 'song' recited by Ramon Cervino, which could well be the song of the EoC, for it said:
"To fly without having wings to fly and not know how, to fly while breath lasts,
and then...starting over."