To conquer the youth, to make the voice of the Economy of Communion heard in new social and academic environments or create an incubator of businesses are some of the dares launched at the second congress on the 19 and 20 of May in Madrid.
By Ana Moreno Marín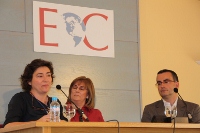 The second congress for the Economy of Communion in Spain has brought together approximately 100 participants among whom young people, businessmen and women, and people interested in this economic proposal which puts the human person at the centre. They were two full days in which experiences were shared through video and talks deepened the meaning of Economy of Communion, more than ever necessary in this time of crisis.
"This congress has been fantastic, sometimes sublime, so much that I couldn't hold the tears back. I met marvelous, generous intelligent, and motivational people ... I believe that the EoC is a good road which will bring me great satisfaction, the same produced by giving," said a retired manager at its conclusion. Many people present at the congress expressed their desire to support the present and future projects of the EoC.
Luigino Bruni, coordinator of the EoC International Commission,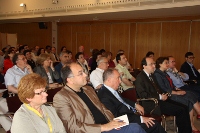 was present as well. Bruni reiterated that this project carries in its DNA the duty to respond in concrete ways to the poverty expressed today in various ways; social exclusion, unemployment, hunger.... He also underlined the value of gratuity as an economic principle, which is not the economy of "gratis" as in 'free,' but the economy of giving. He encouraged those present to re-launch the Economy of Communion in Spain.
It is a dare which has not fallen on deaf ears. Both the organizers and the participants have shown their readiness to work so that the Spanish EoC will be able to bring abundant and flavorful fruit. Proof of this is an experience shared by a businessman: "You have given me renewed strength to carry on with a project in our company that would create new places of work, using energy resources which are being wasted today. I wish to collaborate with you on new projects that you will develop with the young people." Or this other experience by a consulting firm employee: "I am leaving very enriched, with many ideas, but knowing that, as a speaker said, it is not only an idea but also a responsibility."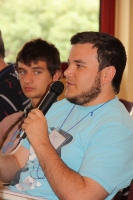 The presence of the young adults has enriched a congress in which also members of other movements and ecclesial realities participated. A nun assured before leaving that "It has been a real grace, a gift given by God, a great richness for me as a person and for our 5 micro-businesses."
In synthesis, a congress full of geniune testimonies and experiences of entrepreneurs, who say that the Economy of Communion is an alive reality in Spain, prelude to a future full of hope.