It took place in the Athenee Square of Bangkok from 16 - 17 February: the International Conference on Sufficiency Economy
by Teresa Ganzon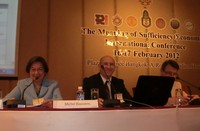 The occasion was the celebration of the 7th cycle of birthdays of his Majesty, the King, that took place last 5 December 2011 (in the Thai tradition, a cycle corresponds to 12 years so that the King was 84 years old this past December). The most important Thai institutions, from the National Assembly, the Institute King Prajadhipok, the University Thammasat, the National Office for Economic and Social Development, the Institute for the Development of a Foundation for a Philosophy of a Sufficiency Economy, to the Institute of Pridi Bhanamyong, all worked together to make this conference possible, entitled: "The Meaning of Sufficiency Economy: Theory and Practice in Society, the Economy and in Business".
The Honorable Teeradej Meepien, President of the Thai Senate, opened the conference, while Honorable Supachai Panitchpakdi, Secretary General of the UN Conference for Trade and Development (UNCTAD), gave direction to the work at hand. About 400 attended: from representatives of Thai NGOs and researchers, members of the academic world (some from Australia, the USA and Canada), to the Senate and Parliament of Thailand. Delegates from some embassies were also present.
Teresa Ganzon, member of the international Commission for the Economy of Communion, gave a talk during the panel discussion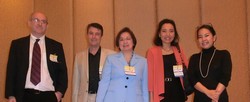 on Sufficiency Economy and Ethics in Business: it was an opportunity to present the Economy of Communion, put into practice as a business owner of Bangko Kabayan, a rural bank that has a rich program of micro-credit loans in the Philippines. During the dialogue that ensued, Teresa underscored that what brought everyone there together was the desire for a third way (or a middle road), for an alternative economic paradigm that would bring about a more just world for all.
A reoccurring theme during the two-day conference was the call to get back to the "fundamentals," to adhere to a "sufficiency economy," and to give the priority to the real meaning of happiness and wellbeing, that goes beyond the fact of having "more."
In the conclusions, the moderator, Dr. Phongphit Seri, president of the Learning Institution for Everyone (LIFE), sustained that he real goal of the conference was to pose questions to the participants, more than giving answers. For the audience, in great majority from Thailand, the talks and presentations of the practice and theory of Sufficiency Economy were the occasion to refocus on the proposal of his Majesty, King Bhumibol to all his citizens, to put into practice and live the basic principles of a Sufficiency Economy and the "Middle Road," which are within reason and moderation.
To see these values already in the examples and study cases reported, coming from different spheres of the business world, strengthened in everyone the determination to do their part so that this important contribution to a social economy can further develop.