The meeting of the EoC Commission of Eastern Europe ended at Mariapolis Faro: a Summer School for young people will be held here in 2013 and a large meeting for all of Europe in 2014
The young people present: "The next 20 years will see us active"
By Gina Perkov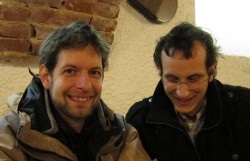 The participants at the extended meeting of the Commission for the EoC in Eastern Europe, gathered last week at the little town of Faro, Croatia. left full of enthusiasm and enriched by the communion that each one contributed to.
They went back to their respective nations after this important and committing appointment together. Luigino Bruni was able to underscore in these two days how the life of communion is not easy, that the EoC is a vocation, and that it is impossible to live it for a long time without an ongoing formation.
For this reason, in 2013 a Summer school will be held here at Faro for young people, while in 2014 a Congress for the EoC for all of Europe will be held: in the meantime, we need to keep working, each one in their own country, to support and spread the idea of communion in economy. "I feel reborn: full of hope in believing and in loving, " said Eva, from Hungary, expressing the impression of many others at the end of these days.
During Saturday afternoon, after the groups went back together for the plenary session, there was question and answer period with Luigino Bruni,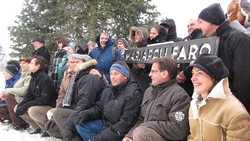 who described some characteristics of the EOC entrepreneurs. The topic came up afte a business man from Romania shared how he had to let go of 70 of his 150 employees, but how he had managed to maintain a good relationship with all of them. The EOC entrepreneurs are:
- business persons, otherwise they could not be part of the EOC. Typical characteristics of a business person are: to be innovative, able to take risks and to live with uncertainty;
- they have a vocation, that is, one specific day in a specific place, he/she felt a call: "Come and follow me." They must feel that their calling has to do with the economy;
- They have a spiritual life. They could be believers or non-believers – but they must have some form of spiritual life, a capacity for caring – he/she is a person with their own spirituality;
- They are not satisfied with the status of the economy and would want to change it. They are people who are unhappy with what they observe, restless about it: they want to see a different world. They are not pleased with it and at times become angry and indignant over it. The EOC business person is not simple an entrepreneur, but is also a cultural agent, because he/she wants a different economy. They believe in it, and live it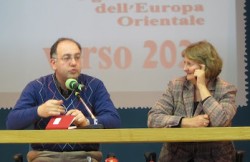 - They have a special love for the less advantaged. They do not view them as poor, but they love the poor because they are the first ones to be poor by sharing their wealth;
- They are builders of the community around them; a brother or sister. Since he/she is often better, more intelligent and creative, the business person finds it hard to have relationships on equal grounds with others, and often feels alone. The EOC business person is one who builds up the community, one who, simply put, acts;
- The business people of the EOC show with their lives that there is an after life, something more that is not visible to us: a something more that is felt, not by renouncing to everything, but by putting goods in common. They are men and women of the beatitudes; a pure person, who builds peace and chooses to be meek, to seek justice...
On Sunday morning, we reflecting on another pillar of the EOC, that is, poverty. Luigino Bruni reminded us that Chiara Lubich had always underlined how the EOC was born to help those less advantaged, to fulfill the words from the Acts of the Apostles: "... and no one was in need." The goal of the EOC is to show how it is possible, at least on a small scale, to resolve one of the deep wounds of humanity: that of poverty. Poverty in itself is not a scandal: it becomes so in relationship with wealth. We are speaking of a poverty that is not freely chosen, which is cured by "taking care" of relationships, even before with money: the Economy of Communion reminds us that true wealth is the relationship among people.
The EOC is growing, it is a living body, a reality.... In this last year, the number of EOC businesses in the world has grown by 43 enterprises: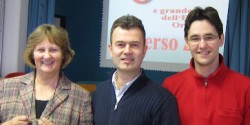 strengthened by the experienced lived, we are leaving from here with the awareness that we do not need to do big things, but to see our everyday efforts in the lareger framework of this greater project.
The youngest among us, the gen 4 of the town of Faro, confirmed this for us. At the end of the meeting, they recounted how they try and live the EOC by doing many projects for the poor. There was also a presentation of the upcoming GENFEST, the world youth festival to be held in Budapest, Hungary, later this year.
See photogallery