10 days of travelling through this big African nation, to make the project known in various universities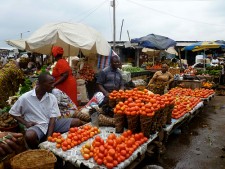 The trip taken by Leo Andringa, Genevieve Sanze and Maria Gabriella Baldarelli starts from Douala, in the Cameroons, where I arrived today, 3 February. The reason for the trip is to introduce the reality of the EOC in different universities, on the desire of Bishop Immanuel Bushu, of Buea. It will be an full itinerary that holds a number of appointments in a 10 day span.
The first appointment is for tomorrow, 4 February at the University of Douala: it will mean introducing the EOC in French to students and professors. From the 6 - 9 February, instead, we will hold a seminar in English for 21/2 days at the new Catholic University of Buea: it will give us the chance to go more in-depth with the project of the EOC, talking about its various aspects: EOC and reciprocity, EOC and management, EOC and poverty. Sophia University will also be presented.
From the 10 - 12 February, we will take a trip to Fontem, the little town of the Focolare Movement in the Cameroons. Finally, on 13 February, there will be another meeting to introduce the EOC in French at the University of Yaoundé to students and professors.
The delegation of the EoC:
Leo Simon Jozef Andringa is the head of the delegation; from Holland, he is a doctor in Macro-Economics and a member of the Central Commission for the Economy of Communion. He is accompanied by his wife, Anneke.
Genevieve Sanze, from Central Africa, is a professor of Ethics of Economy at the Catholic University of West Africa and of economy at the Institute of Moral Science of West Africa; she is also a member of the Central Commission for the Economy of Communion.
Maria Gabriella Balderelli is a professor of Business Management at the faculty for Economics at the University of Bologna, Rimini branch. She recently published the book: Le aziende dell'Economia di Comunione.