There is still time until Sunday, October 24, to vote for your favorite logo for the Brazil 2011 Meeting
The survey for the Brazil 2011 logo continues!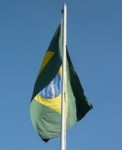 The survey proposed to the visitors of www.edc-online.org at the end of September is having a lot of success. It proposed to give everyone a say on the choice of the Brazil 2011 logo. Many have adhered to our proposal. Until now, the preferences are split between the various logos, and the logo with the most votes does not have a big enough lead to determine it a "winner" over the others. 
That is why we've decided to
extend the deadline for the survey until Sunday, October 24
, hoping to reach at least a number of votes that can define a clear choice for at least two logos, which will allow us to narrow down the winner with a run-off between the two logos with the highest number of votes. 
Many enriching and constructive suggestions by "voters" have been left together with their logo choice. Once the logo is defined, we'll present the results of this precious work to everyone. 
Therefore, we please ask that everyone who has not yet voted to do so as quickly as possible by clicking HERE to access the voting page. Let's get many to vote!