From September 28 to October 10, it will be possible to give your opinion on which Logo to use for Brazil 2011
Vote on the Brazil 2011 logo!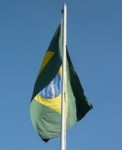 To continue and accelerate our preparations for the big Brazil 2011 event, awe have thought of choosing a logo, together, by launching an original survey directed towards the EoC website's visitors. Which logo do you like the most among the 7 proposals? Voting is easy: just clickhere nd access the page where you can vote. To vote, you must include your first name, last name and your email address. It is also possible to give suggestions on the specifics of the logo. We'll keep you updated on the survey results.  Get all your friends to vote!