February 3, 2012 Side Event on the EoC in the Commission for Social Development of the United Nations' Economic and Social Council
New York: The Economy of Communion at the UN Conference on Poverty Eradication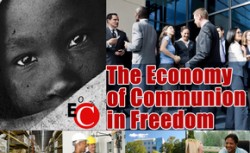 February 3, 2012, 12:15 p.m.
UN North Lawn Building
New York
"Poverty Eradication: Developments in the Economy of Communion in Freedom", the side event organized by New Humanity, the non-governmental organization that represents the Focolare Movement with General Consultative Status in the Economic and Social Council (ECOSOC). The event is part of the 50th Session of the Commission for Social Development, which will be held February 1-10, 2012 at the United Nations.
The initiative of this "side event" comes from the desire, which originated during the EoC International Assembly in Brazil last May, to bring to the UN the message of the youth from San Paolo to the world. A "desire," a "promise," that is fulfilled today thanks to the commitment of the EoC U.S. Commission. In addition to the message of youth, the EoC's experience will be presented with respect to the session's theme, "Poverty Eradication and Education", and concrete proposals for the CDS taxation and the Tobin Tax, both in order to discourage speculation and to find resources for the debts of the States and for development cooperation. Participants of this event will consist of many young people from different ethnic backgrounds from various parts of the U.S. while two young people involved in social work, will come specifically for this event from Burundi and Brazil. Bishop Francis A. Chullikatt, the UN Permanent Observer of the Holy See, is also expected to come. EoC's proposals are contained in 6 official languages (Arabic, Chinese, English, French, Russian and Spanish) at the United Nations website.
It will be possible to bring a brief contribution with concrete proposals for the taxation of CDS and the Tobin Tax even within the plenary session of the event.
See invitation
See programm
See the proposals of New Humanity in English, French and Spanish