Last June 18, Maria Beatriz Colella left for heaven. She was a member of the EoC Commission of Sao Paulo. Angela Pelizzon Garcia speaks in her memory.
Maria Beatriz: a life for the EoC
By Angela Cristina Pelizzon Garcia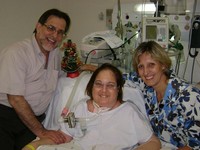 Maria Beatriz Colella, wife of Luiz Colella, co-responsible for the EoC in the zone of Sao Paulo and member of the EoC commission, left us last June 18, after her nth hospitalization. In July of 2008, she was diagnosed with acute respiratory insufficiency, a consequence of the chronic asthma that she had suffered for years.
Although she had not been able to breath well for some time and was having to use medical devices to ventilate her lungs, Maria Beatriz was always present at our weekly meetings and EoC congresses, calmly facing many delicate situations. At the beginning of this year, she lost her sight due to cataracts, but she never let the others notice because she continued to see us through "other eyes". Every day she received Jesus in the Eucharist, making those sacred moments her food and her strength!
Our last meeting with the EoC Commission was 20 days ago, and she was very present, placing in common many ideas, especially regarding the 2011 EoC Congress which will be in Sao Paulo.
A teacher by profession, she wrote a theme for the 2006 EoC congress on "The Formative Vocation of Man in EoC Businesses", convinced of the important role that every entrepreneur in the EoC project is called to play. I remember that one day, referring to the situation of an entrepreneur of Sao Paulo going through a difficult financial moment, she said, "...tell him that I´m asking a lot of Providence for him and for his business, because the thought of the many families of his employees that are suffering this situations makes me see how much my own suffering is small compared to these entrepreneurs that go through difficulties every day."
During her last stay in the hospital, she was thinking of and caring for all those around her: the family, the nurses, the physical therapists and doctors, and her friends of the EoC. It´s really difficult to count the number of people - her friends - of every background and environment, that visited her or sent her messages.
All of us that were around her experienced that the reality that Chiara Lubich left us was something real and concrete. Surely, from Heaven, she would have been very happy to see that her desire, "Be a family!", had become a reality.