In Igarasu- Recife (Brazil)
A Truly Special Weekend
By Maria Clézia Pinto de Santana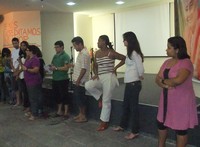 "I would like to thank all of you immensely for this weekend lived together. It seemed like we were all a gift for one another. Knowing that other people "of communion" exists is like finding an oasis in the middle of the desert. The dimension of reciprocal love is a daily exercise, so I want to always begin again."
"We all started the meeting happy, and we didn´t want to leave! There was a strong sense of family among us and a thirst for true relationships."
Reading these two comments of youth who participated in the weekend on the EoC in Igarasu-Recife from May 1-2, it wouldn´t seem like the proposal was to come to a meeting both of study and relaxation. And yet, we studied Saturday: four talks on the basics of the EoC, which in the last analysis recall the concepts of relationships in the workplace, the conception of sociology and theology, and even the joy and the suffering that working brings. Everything under the lens of the EoC, and the result was very interesting!!!
Sunday was for relaxing... the sun, the beach, with much exchange of ideas and deep dialogue. How can we not meet again? From September 4-7, 2010, we´ll meet in the same place, extending the invitation to other friends.