The EoC school in Southern Brazil continues with always new nuances, involving many people: from those who want to deepen their knowledge of the EoC to those who have never heard anything about it before.
2010 EoC School: moments of true growth
By Roseli and Armando Tortelli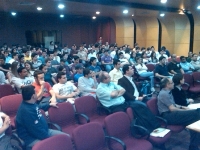 The August 12 EoC school had a new nuance that is worth highlighting: of the 190 participants, 150 were gathered in a hall at the Pontifical Catholic University (PUC) in Londrina to follow by internet: that has never happened before! Renato Bigati, from the local EoC commission, and Jairo Rantin, who is responsible for the community of the Focolare Movement in Londrina wrote us: "The idea of this meeting was a true 'inspiration from Chiara Lubich', a good chance to invite a few people who had already shown an interest in knowing more about the EoC".
The news of the event immediately spread, and what originally was going to be a small group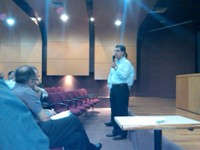 ended up filling the hall. It was a beautiful moment. Beyond those of the Focolare community, there were lawyers, professors, journalists, an event organizer, entrepreneurs, workers, and students of Economics, Business Administration, Engineering and Theology. A professor of the Management department said that she will begin a weekly group dedicated to the topic of administration in order to go deeper into the EoC. A student decided to dedicate her masters to the EoC. The ex-president of the Association of Commerce and Industry of Londrina showed his marvel for the voluntary and immediate adhesion to the video-conference on the part of professors, saying, "Only God can touch the hearts of these colleagues so quickly."
On October 19, the last in the series on the EoC for the year, had other not less important characteristics. With the continued goal of growing together as EoC, 9 cities were connected by video-conference, for a total of 70 participants. The theme on ethics was based on the graduate thesis of one of our "young experts", Mauricio Serafim, and included some food for thought from Luigino Bruni's writings. The result was very adapt to the local context. The presentation was followed by dialogue among all the cities, in which the idea came about to prepare a proposal for a new fiscal law inspired by the EoC. This project will be set up by the ANPEC (National Association for an Economy of Communion) and local EoC representatives. Even if everyone feels the importance of putting ethics into practice in their businesses on a daily basis, they are also very aware of the serious gaps in current Brazilian fiscal legislation. Therefore, as part of a project already begun by the Movement for Unity in Politics, they will work with a member of Parliament who has offered himself to lay out a proposal that aims at more equitable taxation for businesses who are part of civil economy and one, like with the EoC and cooperatives, that lives solidarity.
A few echoes from participating cities:
"The talk on ethics had a strong impression on me, especially the part on 'how to act with the fiscal authorities', going beyond simply fulfilling duties. After the transmission, we met together to read the talk again and exchange our experiences. For everyone, this resulted in taking on the challenge of putting ethics into practice in everyday life." Marinez Pretto - Porto Alegre
"Just now, we started using 'fiscal coupons' (simplified receipts), and now this theme on ethics proposes certain questions about taxes. I think that we shouldn't be worried (even if it is right to support means for tributary reform in our country). Rather, above all, we should put our attention on how the EoC entrepreneur should be a 'great new man', seeking first of all that 'something more' he can offer in negotiations." Milena Cordoba – Florianópolis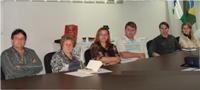 At Guarapuava, two businesses shared their desired to be part of the EoC. Michelle and Danilson Salatesky, who met the EoC at a congress in São Leopoldo, said that the Economy of Communion seemed like something very simple, but now they understood that it deals with something much deeper. What touched Danilson the most was hearing that the EoC entrepreneur does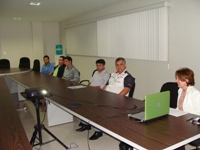 not only "teach someone to fish", but he is one who "fishes together and eats together". Robert Michelc said that when someone has the right attitude, gaps are closed that could have been sources of problems. He also said that Christian principles are "fantastic for bringing changes and prosperity to entrepreneurs."
From Bumenau, Pastore Everson Gass, of the Lutheran Church of Brazil, despite communication problems, found a way to send his message to everyone: "ethics is an act of faith in the other and in God. Ethics is love of neighbor."
From Curtiba, César Lazarotto, entrepreneur of La Polentina, told us: "the EoC proposal helps me to make my business a community".
This school has left everyone with an even stronger sense of how important it is to bring ahead the EoC, facilitating these moments of formation and dialogue so that they are always more often and in every corner of our region.