On Economy, Enterpriseand Motivational Capital, the 11th Regional EoC Congress in Recife, at Igarassu
Practicing fraternal relationships: this is the new good
By Maria Clézia Pinto de Santana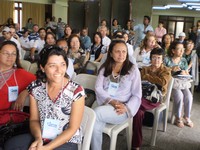 Of the 120 people present on September 4 and 5 in Igarassu, 30% had met the EoC project for the first time. Many, very many fruits: seven new businesses declared themselves as sympathizers to the project, many decisions taken to change the course of one's life, committed sharing of talents (offering the time and services of our businesses to Ginetta Business Park). There are even those who found new meaning in their lives.
The sharing of experiences and opinions with people coming from other zones of Brazil was very important. It meant taking steps ahead in the academic environment, clarifying relationships with the businesses and the life of communion based on the spirituality of unity, typical of the Focolare Movement. In particular, we can say that, thanks to this congress, the EoC has reached new areas, and its ideas have been able to circulate on a wider field. Every step was enriched by local cultural expressions: the high point was a theatrical representation given by youth of the favelas of Santa Terezinha Island, who, with much talent, invited everyone not only to "give" but to "give of themselves".
Discussions in the working groups led to interesting conclusions: that relational goods are more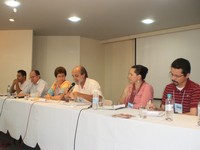 important than material goods; the difference between being a boss and being an administrator; that the EoC is not the economy of the communion of goods but also communion of needs and difficulties and should be lived to give an answer to the solitude of entrepreneurs; that the center of the proposal is life and not profits; and others.
Visits to Ginetta Business Park were the most tangible experience of what the EoC project can generate. One of the youth commented on the way back from the park, "no one can tell me anymore that the EoC doesn't exist. I've come, and I've seen. It's real."
The congress also marked the beginning of a dialogue with other forms of economy and local development initiatives, as well as with other possible instruments for minimizing the process of exclusion, like microcredit.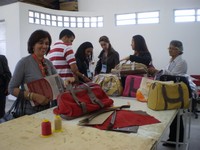 The youth participated with passion, showing a great thirst for "light" and "truth", and they stayed on Sunday afternoon to share the deep life stories of two of them present from Sao Paulo and Belém. The next appointment with them is November 5 and 6, to continue to study the EoC.
What conclusions can we draw from this congress? That today, ethics, sustainability and cooperation are no longer enough for people and businesses. There is need of something more: living fraternal relationships. This is the new good.
Photogallery: