The EoC schools were proposed by Chiara Lubich as instruments of formation for all "actors" of the EoC. They are courses on specific topics, divided in theory and practice, enriched by experiences and moments of dialogue
Curitiba (Southern Brazil), 12th EoC School
By Adriana Mendes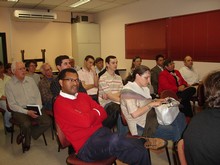 Southern Brazil is one of those regions where the EoC school has been held regularly. In the city of Curitiba, for example, there have been twelve such meetings in the last years, one every two months, well attended by youth, entrepreneurs, workers and others interested in the project. A total of 1263 people have participated in these schools.
Last May 6 was the 12th EoC School. In an atmosphere of family and deep listening, the program started with an updating about the international congress of the EoC Commissions in Castelgandolfo last April. Through a video-conference call that uses the WebEx system, 65 people in 9 different cities were able to actively participate.
Maria Helena F. Faller presented a reflection on the first part of the theme, "Guidelines for conducting an EoC Business," entitled, "Entrepreneurs, workers and businesses." She was able to share with everyone the experience of presenting her graduate thesis. On days when she felt tired and frustrated, she remembered the poor and the entrepreneurs that give their life for the EoC and would say to herself, "without this life, there is no research that goes ahead".
This was followed by communion among all the cities linked up. Many said that these moments are important because everyone renews their proposals and gains strength to go ahead, improving in every aspect. For many, the awareness that the Economy of Communion began for all of humanity either emerged or was reinforced, and encouraged everyone to not "measure their efforts" in living it and spreading the idea.
For the first time, the city of Blumenau (Santa Catarina) was also connected, and it was a great joy to know about the ecumenical experience that they are living there, as the EoC there is lived by both Catholic and Lutheran entrepreneurs. One of them said that he was already trying to live according to the "Guidelines for conducting in EoC business" without even knowing about the project, and in this meeting he found the answer to his deepest questions.
An entrepreneur from Joinville (Santa Catarina) asked what "living the new man" means in business, especially when faced with problems that an entrepreneur encounters on a daily basis. Armando Tortelli (president of the National Association for an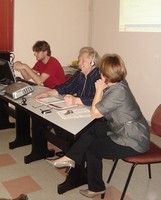 Economy of Communion) answered that living the new man means incarnating the Golden Rule ("do not do to others what you would not have them do to you") and shared an experience about a day when he had many things to do but a group of representatives wanted to speak with him. He then remembered the Golden Rule, opened the door of his office, put aside what he was doing and tried to welcome each one of them fully. He finished by saying that "the roots of the EoC are in heaven, in the life of the Gospel, in Christian love."
A few impressions gathered "hot off the press" from various cities:
Milena Cordova (entrepreneur in Florianopolis - SC); "In our businesses, we are living the most critical moment ever since we first adhered to the EoC, both financially and in the relationship with a few of our employees. Now, participating in this school that focuses on the "Guidelines for conducting an EoC business", I understand that I know about the EoC, but I have to seriously live it there. This choice is mine, and the bigger change is up to me. This school has given me an answer: I need to see the mistakes in all the administrative aspects and in those of relationship and entrust myself more to Divine Providence, which is an essential part of the EoC. Many thanks to everyone!"
Celso Beppler (Entrepreneur from Joinville - SC): "Eight people participated in the video conference call in Joinville (5 entrepreneurs and 3 workers). After the call, we stayed for another hour, and everyone wanted to know more. We thought of making a calendar of meetings between one school and another. I see that this is the role of the school: motivating people to go ahead".
Daniel Faller (Curitiba - PR): "I am a non-believer and, therefore, I see the Economy of Communion in a different way than those who believe. Based on my technical and professional vision, I don't see it as a utopia and not even as a dream. It is a very doable proposal and is possible to bring about. If an entrepreneur puts just half of the points in today's theme into practice, like the full respect of his workers, he will already to great and important things. I even see this as economically doable. It is important to understand that the action of Providence, both what is considered the "divine aspect" and what is considered the "market mechanism" (good wins over bad, justice wins over injustice) is proved in an effective way only when one does all he can. Or better, it happens when one dedicates his body and soul to his work. Then, this action is proved true."