In preparation of the 20th anniversary celebration of the EoC, three videoconferences involving 5 cities of Northeastern Brazil, have been held in Recife. Here's an insight from the last two videoconferences.
Northeastern Brazil: In preparation of the EoC's 20 years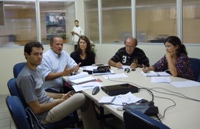 March 18: During the videoconfernce, Magali, a member of the Salvador-BA commission remarked, "This is a rich and fulfilling moment," a feeling which seems to capture the actual experience.  
The Maristi congregation provided the venue for the 22 participants coming from the cities of Recife-PE, João Pessoa-PB, Natal-RN, Salvador-BA e Fortaleza-CE. The groups were composed of entrepreneurs, young students, professionals who held positions in government, professors and people involved in NGO work. The EoC attracts and is capable of involving many from different fields.
After having expounded on "
The guidelines in conducting in EoC enterpris
e," three entrepreneurs shared their experiences. The words
passion, enchantment, vocation and splendor
, were repeatedly used by different people.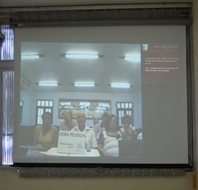 Below are some of the dervied conclusions:
•    To constantly be in the dynamic spirit of renewal of being "new men." "The EoC cannot be achieved without the formation of new men."
•    The concept of poverty as something positive, in the light of our daily living of simplicity and detachment, should be renewed.
•    To always view profit in terms of sharing and not of accumulation and concentration.
•    To intensify the EoC's efforts in reaching out to less fortunate communities, such as the case in the state of Creara'
April 1: There were 28 participants present in the same cities of the March 18 videoconference. Luigino Bruni's "The EoC today: challenges and prospects" was the theme of reflection. Again, the videoconference was a beuatiful moment of joy and serenity.
Among the points raised were the following:
* The need to return to the roots (the word RADICAL is derived here) and discover from there where we want to go.
* Know how the read the signs of times;
* Reflection: How should the EoC confront the issue of social poverty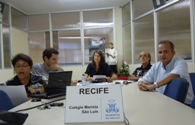 Other points of reflection:
•    In the EoC, it is not important who wins or loses a discussion;
•    Contributing to a new economic order means renouncing the tyranny of money and information. Giving economy a human face means giving it a sense of communion;
•    The need to remember the positive concept of poverty which will only be possible with the formation of "New Men." Only in this way will we have a Cultural Movement. 
•    The commitment of everyone who adheres to the EoC is essential.

Concrete proposals:
* Prepare training courses regarding this culture (involving people familiar with the EoC from different enterprises and companies;
* Encourage the creation of micro EoC enterprises.