Santa Fe, Argentina: November 17, 2011, the first round of dialogue on the EoC.
by Carolina Carbonell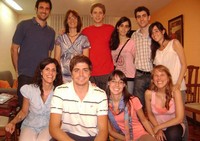 The invitation was promising. The title "santafesine" was refreshing from the heat of these lands (Santa Fe - Argentina), which now exceeds thirty degrees Celsius. The invitation had to be clarified so as not to exclude anyone. Even the organizers, the study and diffusion group of EoC-Rosario, do not feel "specialists" when compared with the entrepreneurs and scholars in the beginning of the EoC. But the enthusiasm and the desire to tell everyone about this new economy brought about the organization of this first round of dialogue.
The meeting was attended by about twenty young people, including students, professionals, employees and even employers. The technology, put in the service of dialogue, has put together a presentation of video experiences, photos, animated graphics and notes on the most important aspects of the EoC. In this way, young people today can communicate with other young people, sharing the same language.
The presence of entrepreneurs was the highlight of this meeting. Claudia Lujan's experience from the Arcoiris (Rainbow) company in Rosario fascinated the young people,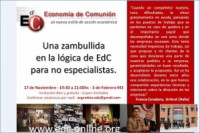 while Bettina Gonzalez of Boomerang Viajes (Travel Agency in Buenos Aires) was connected via Skype to tell her story.
There is still so much to see and to tell, many questions to be answered; therefore we committed ourselves to meet again, perhaps even visiting some company in the area where we can look at what EoC life is like in "real time."
One of the girls said: "I came because my boyfriend insisted for a long time that I should know about the EoC. Did you see? It was very fascinating…"