Interview to financial expert Maria Pereira
by Antonella Ferrucci
Maria, can you help us to understand this OWS movement ?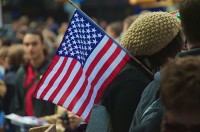 In time the Occupy Wall Street (OWS) Movement may be seen as giving great impetus to reform Finance.  Inspired by the Arab Spring and the indignados' manifestation in Madrid, OWS started on Sept. 17, 2011 near the Wall St. area, the symbol for the financial world.  It shows participatory democracy in action. It began unperceived with little media coverage, but by October 15, OWS had spread to 951 cities in 82 countries.  It was not intended to be restricted to the US or Finance, but to bring attention to the world crisis.  It was a cry for economic justice, responsibility, democracy and human dignity.  For Christians, it could be seen as a cry for God.
In your opinion, what is really happening in front of Wall Street?

To understand why Wall St. was picked as a symbol for protest, we need to revisit the financial crisis in 2008, when the US government bailed out banks that had brought about near collapse through irresponsible and often unethical financial practice, fed by greed.  The market showed itself to be inefficient, imperfect, and irrational. To prevent financial meltdown, the US government injected $700 billion under TARP.  Once the banking sector recovered,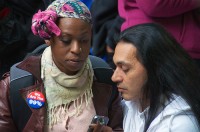 bankers continued with their self-serving practice and excessive compensation.   Despite repeated liquidity injections by government, Wall Street forgot the purpose of banking, which is to provide support to the economy.   Unemployment continued to rise. This was seen by the citizen as privatization of gains and socialization of losses.  The movement has been criticized for not having any agenda, but what is of importance to the demonstrators is clear.  Economic justice is one, manifested by protest against income and tax inequality, with the rallying cry of the "99%".   The young worry about employment and reduction in education spending, and older people are concerned about their pension, as excessive speculation led to turbulent financial markets, eroding savings and rendering planning difficult. OWS denounces economic injustice and the corruption of politics by the financial sector, a main lobbying force and contributor to political campaigns, thus paralyzing government action for the common good.  Included in concern about the future is that for the environment.  
Does this movement reflect the thirst for genuine human  relationship among people?
The friendship and respect shown by people at OWS gatherings illustrate the fulfillment that must be felt from these encounters of concern for society, thus suggesting that we do have a thirst for deep and authentic relationship. The Occupy movement has gained many vocal supporters among the establishment.   In protest against planned eviction of protestors, important clerics at St. Paul's Cathedral resigned, thus starting an Ethical Finance Initiative.  The Archbishop of Canterbury called for a financial transactions tax, as had the Pontifical Council of Justice and Peace, and condemned excessive executive compensation.  The OWS movement has given courage to politicians, including Cameron, to criticize abusive corporate compensation. Perhaps now, encouraged by the public voice, government can stand up to business interests, shareholders reclaim their rights, and citizens recover economic justice.  This would lead to better government and a more equitable and sustainable world.
The Economy of Communion has as its ultimate goal the "universal brotherhood" and puts the person at the center of economic   activity: may  its proposal  represent a response to OWS?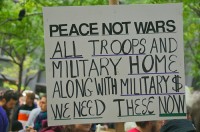 Yes, definitely.  Economics with a human face, as presented by Luigino Bruni, and not Economics focusing on efficiency and income maximization, is definitely an answer. An interesting development happened at Harvard, where a group of 70 students walked out on a foundation class in Economics, protesting that the course "espouses a specific—and limited—view of economics that we believe perpetuates problematic and inefficient systems of economic inequality in our society today."  The OWS can be seen as a movement of unity, manifesting concern for society. Perhaps Tahrir Square, the Puerta del Sol, and OWS are the seedlings of a new world order of Agape?  Let us hope so.
*Maria Pereira  worked in the investment industry for over 20 years in New York, Hong Kong, and Lisbon.  In recent years, her concern about sustainability has led her to climate change initiatives and ethical finance.