Our trip in Bolivia continues. Next step, La Paz.
Economic development, civil society and fraternity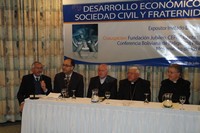 After the conclusion of the EoC Congress on July 18th, on Monday, July 19, the trip continued from Santa Cruz to La Paz. La Paz is a city which is 3800 meters above sea level and is the capital of Bolivia. Close by, 4000 meters away, another city called El Alto can be found, numbering another million inhabitants.
On Tuesday, the 20th, the program presented an important event strongly encouraged by the Nuncio of Bolivia, Mons. Giambattista Diquattro. Luigino Bruni held a conference called "Economic development, civil society and fraternity". The afternoon was organized by the Bolivian Bishops' Conference with the collaboration of the Focolare Movement, Caritas Bolivia, the Jubilee Foundation and the Conference of Bolivian Religious.
Among those present, over 140 people, there was also the vice minister of the government, university professors, bishops,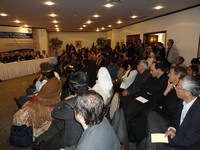 students, entrepreneurs, members of NGOs, workers of microfinance and of the World Bank.
Luigino Bruni centered his talk on Benedict XVI's last encyclical, Caritas in Veritate, underlining its historic value, above all when he affirmed that gift and gratuitousness have reasoning all their own to being "within" the market. He then proposed a few ways to promote sustainable development. Finally, he underlined the importance of "new" entrepreneurs within civil life - ones that know how to put their profits in common.
What followed was an exchange of very enriching questions and answers in which the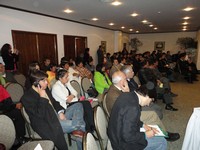 "how" to start micro-businesses in the spirit of gift and gratuitousness was addressed. They also dealt with promoting development based on the synergy between state, business and families. Finally, answers underlined the importance of the principle of subsidiarity in reaching an authentic development.
The atmosphere between those present was very beautiful. Luigino Bruni, greeting those who were there, affirmed to have found in Bolivia a very significant "fabric of communion" which should be cared for and made to grow. He expressed his wish that Bolivia, having all the preconditions, is really able to offer the world a model of alternative development.