In the International Conference on Alleviating Poverty held last September 24, 2011 at the University of Santo Tomas, Manila, Luigino Bruni spoke of the EOC as a sign of hope in the era of globalization.
by Teresa Ganzon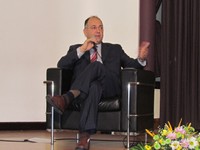 Departing from a prepared speech in order to establish a more personal rapport with his audience of 200 conference participants composed of graduate students, professors and people from NGOs as well as government, Bruni began by laying out four premises:
1. Because of globalization, poverty is no longer a domestic issue but an international one.
2. A wholistic education (not just intellectual but work education) is an issue in poverty and a Christian message to society is that work is part of the character of a good person.
3. Today's conditions call for a redefining of the relationships between state, government, economy and civil society because it is no longer enough that redistribution of wealth be left entirely to government. There is a call for social entrepreneurs to intervene directly with social problems and not just through the tax system.
4. The fourth premise is that the financial crisis indicated that something is wrong with the system and that if uncorrected, society risks a second, more fatal "heart attack". A change of lifestyle is necessary to avoid a repetition of the crisis.
Bruni then expounded on globalization and the new opportunities it offers, as well as the possible risks of "transforming the world into a place where the only form of human relationships is the cash nexus where everything becomes a commodity." He then described the two possible ways the market economy could move forward: "First, to build a global village where as in every village more principles are at work. There is an exchange of course, but also redistribution of wealth and gift. Or a second possibility to transform the world into a global supermarket where everything becomes a commodity, where there is no room for genuine and intrinsic relationships."
Within this context, Bruni said the main challenge of the Economy of Communion, both at a theoretical and practical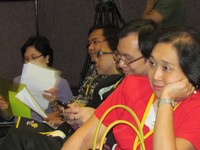 level, is " to show that it is possible here and now in Philippines too, to build a business community oriented towards authentic relationships where reciprocity has the right to exist also within the economic domain." Thus, he said that "the Economy of Communion is a concrete sign of hope in this moment of crisis but as in any crisis, it can be also a moment of opportunity."
Luigino Bruni went on to describe the Economy of Communion and the three pillars of the project, referring to the firm, culture and poverty.
In speaking about the firm and the entrepreneur, he distinguished between two different types of entrepreneurs. He described one who is a mere speculator for whom the main objective and driver is maximization of profit and therefore, for whom the nature of the business is secondary. On the other hand, for a true entrepreneur, the activity of the business itself has intrinsic value, beyond the goal of profits, calling forth his passion and intelligence. It is an intelligence that leads to creativity and innovation, this "new eyes" of the human person that marks the true entrepreneur.
On the nature of profit, Bruni, said that Catholic social thinking teaches that one must be critical of the way wealth is distributed. In his opinion, there is something wrong with the practice that gives most of the value added to the shareholders and not to the workers of the firm, as is in the capitalistic society. He cited the instances where managers and CEOs receive a thousand times what the employee takes home as something inconsistent with a Christian approach to economy.
On the matter of poverty, Prof. Bruni pointed out that it is a product of interpersonal relationships gone wrong. It is not an individual status like the physical features one is born with but instead, is a social matter. Therefore, in order to find a cure for poverty, one must address not just the individual but the relationships within a community. An interesting point that Bruni brought out, still in the matter of poverty is that "poverty is not mainly a matter of money but is a matter of deprivation of capabilities, freedom, rights. Therefore, if you would like to fight against poverty you must to invest in education, you must invest in capabilities, in politics, in rights."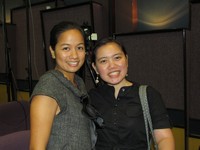 Describing poverty as basically exclusion from politics, education, from production, Bruni concludes that to fight a "negative poverty" (that which is suffered and imposed upon by broken relationships as differentiated from the chosen poverty preached in the Gospel), poor people must be brought within the production, within the business and not just by helping through grants. "This is a very big message coming from all our civilization…without working there is no way of leaving poverty trap."
"If one would ask me which are your suggestions for fighting poverty in countries where there are social problems, my answer is three points: education, education, education. Without education there is no future for young people in particular. Education of high quality. Primary, secondary, high school, post graduate and so on. But, not only intellectual education but also education by doing."
As a conclusion, Prof. Bruni challenged his audience, the majority of whom were from the academe, to teach economics and social responsibility in a differently, based more on an understanding of a communitarian way rather than the philantrophical approach.
Addressing himself to the largely Filipino audience, he said "I hope that your creative Filipino society and economy can find its own way to market economy and society in order to keep its communitarian and Christian roots that is very clear, very strong in in your society and is able to innovate and grow in a globalized economy and society. Maybe in this great, passionate challenge the experience, the small experience in culture of the Economy of Communion can offer an example."