On October 2nd in Velehrad (Czech Republic), Stefano Zamagni gave his contribution to the International Conference on Unemployment and the global crisis organized under the patronage of the European Commission
by Maja Calfova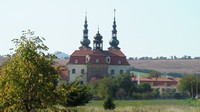 Stefano Zamagni's speech, last October 2nd in Bohemia, left a sign of hope and a new vision of the economy on Work, Unemployment and Civil Economy. With two images, the pyramid and the hourglass, he explained the difference between the labor market of "yesterday" and the current one. "Yesterday" (the pyramid) there few people who enjoyed a "high" position in the company, "today" instead (the hourglass) there are many who can aspire to such positions and there is no limit.
With the globalization of business, if they cannot find super-skilled workers in a specific area, they can find them elsewhere, even in distant places and they do it because highly skilled people increase productivity and profit. Those who do not find a job today are low-skilled graduates, which are located in the bottleneck of an hourglass. This is a paradox, Zamagni said: "Yesterday" unemployment impacted those who did not go to school; today those who do not find a job are those who dropped out in the middle of their school carrier."
The image of an hourglass also helps us to understand something of inequality. "Today" super-specialized people ask the company what they want, and if they do not get it they move elsewhere. Instead, those who remain at the lower level to do routine work have to be content with a lower salary. "The rich of 'today' are much richer than the rich of 'yesterday' and the poor are poorer than the poor of 'yesterday.'"
So what can we do? There are three levels of intervention, says Prof. Zamagni: policy, business and civil society.
The policy must do two things. First: change the tax system, (by ceasing to tax work heavily and instead taxing the financial markets).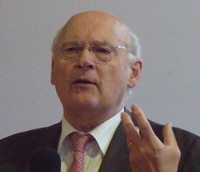 Second: foster the creation of laws through appropriate companies that do not have profit as their goal, such as social enterprises. "The goal of social enterprises is to create jobs or to pursue goals of social good. The social company produces a particular category of service to people such as health, education, child and elderly care. To make this work we want people, not new technology or robots."
The second action plan is about the business world. "Legal responsibility" is no longer enough, it also needs the responsibility of the society. The true Corporate Social Responsibility is to create jobs, not so much in doing charity. The company should take responsibility of the destiny of those who live in its territory. The other aspect is the Family Responsibility of the company. "Both work and family have fundamental values: it is necessary to study politics of reconciliation to ensure that work and family can go ahead parallel. All this happens in the businesses of the economy of communion, which tries to translate these principles and put them into practice, and is successful. As we all have difficulties, they understood that unity of values strengthens and increases innovation and creativity. For where there is harmony, there is more innovation and creativity. Therefore, legal responsibility is no longer enough (respect the laws, pay taxes, no more exploiting people and the environment). It takes social responsibility especially of the family. This means enhancing the workplace."
The third plan of action is that of Civil Society. "Its job is to aggregate demand because it can achieve significant results on the employment front."
At the end of his speech Prof. Zamagni concluded: "Tell your entrepreneur friends to go and spend a weekend in Loppiano. I have seen many entrepreneurs, after having been in Loppiano for 2-3 days, return home changed. They had never thought that one could do so much good with business activities, and above all be happy. Giving entrepreneurs the opportunity of doing something good and being happy is a gift we can give them."