The third EoC School of Northern Europe, on 20 to 23 October, will be held in Vienna
The "way" of EoC: A path to take together
by Winfried Baetz-Braunias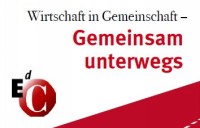 20-23 October 2011
Seminarzentrum Am Spiegeln
Betriebs-GmbH
Johann-Hörbiger-Gasse 30
A-1230 Vienna
"A path to take together" is the title of the third EoC School of Northern Europe to be held in Vienna at "Am Spiegeln," the Meeting Center of the Focolare Movement. Those that are expected to come are people who are actively engaged in the EoC from 8 countries of Northern and South-Eastern Europe (Germany, Belgium, Switzerland, France, Hungary, Italy, Austria and Slovakia).
The program was entrusted to those responsible of the various participating EoC countries. On Friday the school will focus on the results of the EoC Assembly of its 20 years (May 2011, Mariapolis Ginetta) in collaboration with other Christian movements. Saturday is dedicated especially to the young people. A group of students from a school in Vienna will also attend. Luigino Bruni will lay the foundations of EoC's future "towards 2031," and Francesco Tortorella, responsible of the EoC-AMU Development Projects, will outline the EoC's challenges today on poverty and development.
EoC entrepreneurs who are experts in business management will be the animators of various workshops: Ecology in the Light of the Spirituality of Unity, Life as an EoC entrepreneur and the "founding" of the company, Entrepreneurial Vision: How to navigate among talents and ideas, Case Study: Making Decision in an EoC company.
Register here: online
see the program