Second appointment at the academic level for the EoC in Peru
Peru, Trujillo. A breakthrough at the UPAO University
by Silvano Roggero
Last March marked the third anniversary of the death of Chiara Lubich. It was an occasion to present the EoC for the first time at the Catholic University of Santa Maria in Arequipa. The title of the conference was "Economy of Communion: A New Style of Economic Management." On August 26, the same title was used for the conference at the UPAO University (Universidad Privada Antenor Orrego) of the city of Trujillo, about 8 hours from Lima towards the north.

The poster advertising the conference was emphasizing the centrality of man, represented by an inverted pyramid with a man standing on top of it. The Dean of the School of Economics had been in contact with the EoC through a professor of the University, Ricardo Rodriguez. In one morning his students were interested and immediately accepted the EoC challenge it provokes, with its new values and turnover put into practice.
The beautiful and harmonious auditorium was soon filled with 130 students and professors. After the Director's introduction the EoC was presented as follows: how it began, who is Chiara Lubich, and the importance of the "culture of giving," followed by a short video.
The main theme on "self-giving" and the culture of communion was presented by Hugo Marroquin. Some of the emphasized words were generosity,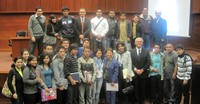 community, culture of giving, meeting, solidarity, and development. It was then followed by questions and answers to allow them to develop on the theme, and bring out that doubt that everyone have: EoC: utopia or reality? Some said it would take an act of justice to Chiara Lubich, attributing the Nobel Prize for Economics. A few years ago the Nobel Prize was awarded to an economist who proposed something similar, when Chiara had already said it almost twenty years ago.
The experience was very positive. The university authorities were interested in continuing the discussion and in the following days, messages of thanks and requests for contact were received. With the students' and professors' attention, the questions and interest shown, we think we can say that the EoC had a breakthrough with those present.