On the occassion of its 400th anniversary, the Pontifical and Royal University of Santo Tomas has organized an international conference on poverty. The EoC's perspective on poverty will be presented.
"Alleviating poverty during global uncertainties"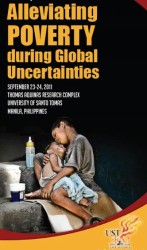 23-24 September 2011  
Thomas Aquinas Research Complex
University of Santo Tomas
Manila, Philippines
The international conference, which is part of the 400th anniversary celebrations of this prestigious University, promises to gather economists, politicians, professionals, and scholars. It is a venue of dialogue on the changing perspective on poverty reduction and on social protection, in the light of current global politics. It also aims to tackle the economic and environmental questions that affect human welfare and security. 
see brochure
Specifically the conference seeks to:
• Provide a platform for the discussion of emerging issues and concerns on the various approaches to poverty alleviation and social protection.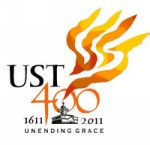 • Create awareness on the effective mechanisms in mitigating poverty under diverse conditions.
• Influence policy enhancements and stimulate research on social protection and poverty alleviation
Teresa Ganzon presides over the September 24 session where Luigino Bruni will talk about "The Economy of Communion: Signs of hope for a new business and economic paradigm in the era of globalization."  He will elaborate on the EoC's perspective on this issue. This will be followed by a forum presided over by Tita D.Puangco entitled "Conversations with the entrepreneurs of the Economy of Communion."