A new opportunity came about to present the project in Colombia just 15 days after the presentation of the EoC to 17 bishops in San Gil
Colombia, Rionegro: A great interest for the EoC project at the Forum for Peace
by Silvano Roggero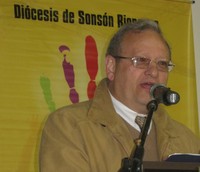 We are at Rionegro, a town an hour from Medellin, in the Antioquia Department, at 2,100 meters above sea level. We hosted at the "El Tapial" Auditorium in the "Tutucàn" Park which, besides being an original Tourist Center, is also a Cultural and Educational Center. On the week of 4 to 11 of September, the "Week of Peace" is celebrated in Colombia and in this context the XXII "Forum for Peace" is held, which this year is titled: "Solidary Economy, Economy of Communion: Road to Peace."
The Forum for Peace, sponsored by the Diocese of Sonson Rionegro, will be "an academic, political and social space that will analyze the issues of the region to propose alternative solutions." A space that intends to reflect and discuss solidary economy and present the project of the Economy of Communion as strategies and alternatives to building peace and as a model of human development in this region of Colombia.
There were more than 300 people from 23 municipalities that make up the East Antioqueña, from representatives of the Region: social organizations, entrepreneurs, educational institutions, various pastoral groups, trade unions and on this occasion even some candidates for mayors and Municipal Councilors (there will be elections at the end of October).
The bishop of the Diocese of Sonson Rionegro, Bishop Fidel Leon Cadavid M. opened the proceedings retracing some principles of the Social Doctrine of the Church,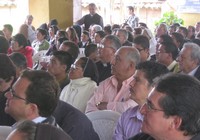 followed by the report of Jairo Marquez on "Solidary Economy" and the presentation of the Economy of Communion. The EoC has aroused great interest among the participants, generating many questions to a few of which we were able to respond publicly due to the short time available, and will be published in the Final Acts of the meeting. "Does the culture of giving have to do with only the economic side?" "To join the Economy of Communion does one have to be part of the Focolare?" "What do you have to do to be part of this 'movement' so as to move forward together?" "What are the requirements?" "Can private entities be linked with it?" "How can we move from forums and academia to practice?"
Of course people would want to know some experiences of the EoC companies in Colombia and in particular of the same region which unfortunately we do not have not yet, but at the conclusion I recalled an African proverb quoted by Luigino Bruni: "The best time to plant a tree was 20 years ago, but if you have not done so the best time is now." There were many immediate responses: the many radio and TV interviews, interest as EoC professors, idea to organize some seminar or workshop or meeting with entrepreneurs to present the EoC. But not only, at the end of a work lunch a law student excitedly told me, "I decided to do my thesis on the EoC" and a professor sitting nearby: "Count on me, I'll support you." Here the tree is planted and it is beautiful!