Impressions from a journalist "passing through" the meeting of Argentinian entrepreneurs last weekend in José C. Paz, Argentina

A Great Little Project
by Alberto Barlocci
published on ciudadnueva.org.ar on 11/09/2011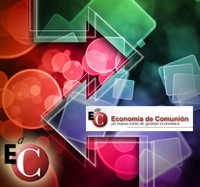 The fact that 80 entrepreneurs are together for an entire weekend to share experiences of corporate life does not seem to be news. In this world where huge sums of money are transferred, with too many figures to even write down, where macro numbers speak of hundreds of thousands of consumers or workers, where governments operations involve large parts of the population… a small group representing an infinitesimal portion of the economy.
But if this group belongs to the Economy of Communion project, that is one of the experiences of the great world of social and united economy; if these people pose as objective to improve and optimize the results of their companies not only to allocate a proportion of profits to the poor and the formation of a new economic culture (two of the main objectives of the project) but also to improve the relationship with their employees, to decide on the basis of more participants, to include people who have retired from drug addiction or prison, to add the salary participation in corporate profits… now this is news.
These are my thoughts while I am at lunch, along with a journalist of "La Nacion," Buenos Aires, with some of these entrepreneurs.
We are 40 kilometers away from the capital of Argentina, in the formation center of the Focolare in Jose C. Paz. Whatever happens, happens; these people get together twice a year to move forward on this dream: develop companies that, participating fully in the market and using different types (from joint companies to cooperatives), at the same time, may respond to the challenges of poverty, inequality and exclusion.
There are about 60 in Argentina, with other entrepreneurs attracted by the project, 300 in Latin America and thousands around the world. Listening to the way they speak, their speech, you understand that we are in an area where it holds a different rationality, another way of thinking. Some examples: the entrepreneur is the one who has a "vocation" or "gift" of generating companies and then puts this gift to serve the community to which one belongs. "At work I want to understand how to successfully involve everyone in decision making..." says one of them. "It is not easy to put an ex-convict among the workers. I understood that we have to do this with everyone's participation, if we want to give someone a chance in life," said another who came from Paraná. Conflicts? "We have them, as everywhere in the world, but putting oneself in another's shoe, understanding their concerns, helps to solve them in a better way." The capital? From what we see it does not only consist of material goods, money, goods or merchandise; hence the loyalty, punctuality, fidelity to their word, and trust are part of "relational" goods, namely those non-material capitals that arises from relationships.
"A carrier sent me the invoice for its services. According to the arrangement, I knew that the company could charge me more and could not dispute the amount. Therefore I asked him: why did you not charge me more? He replied: because I found a way to do the routes (thousands of kilometers) with the truck full. I know that you cannot verify it but you were always just when dealing with me, always paid on time, always tried to load the truck as soon as possible even on weekends and I could not behave differently," said Germán from a company dedicated to building materials. But many considerations do not cost more the company. Would not being a little "less correct" bring more money? Faced with this "bad" question, Bettina, owner of a travel agency, shows no doubts: "I can only tell you this: since we started to be consistent with this project and therefore in all aspects of the company, I have seen the growth of turnover in quality and quantity. Now we have opened a second office…" There are many experiences in this regard. "It is a permanent temptation," they recognize, "but today it is the employees themselves that remind me; boss, we cannot do this, we are an EoC company!"
Some might think that this is not news. I think it is. Here, in this small cellulite of the social economy universe – which also represents the eighth economy of the planet, is something new: it closes a circle that includes entrepreneurs, workers, companies, suppliers, customers, States, competitors, etc… Instead of being a place of struggle, conflict, suffering and injustice, the economy, company and the job can be transformed into a context of reciprocity, generosity, solidarity, in meeting between people. This does not mean that there will be no problems, but there is a different key for dealing with it. Perhaps this is the "spring of the economy" as described by the motto of the meeting.