Mariapolis Center "The Little Cloud" on the occasion of its 20 years
An EoC Permanent Expo in Caracas
by Fabiola Marín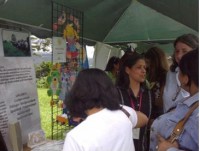 The idea of an EoC permanent Expo at the Mariapolis Center "The Cloud" in Caracas, Venezuela, was founded by entrepreneurs who had participated in the EoC International Assembly at the end of May in Brazil. It was at the celebration of the 20th anniversary of the Mariapolis Center that the opportunity came for the establishment. The EoC actors who developed the project were from Venezuela, Panama and Costa Rica. The underlying desire is to bear witness to EoC as an alternative economic model that makes possible the transformation of the company in a space of communion, capable of producing quality goods and services, as well as "new men" raised in the Culture of Giving which is the soul of business management.
The 5 companies and associations present at the Expo, from 5 different cities of Venezuela, have demonstrated a commitment to the visitors to direct more and more their own business on the model of EoC business management. Advertising, commerce, services, associations, educational associations, the various sectors represented by the companies.
At the end of the day about 240 people passed by the Expo, belonging to the Focolare Movement and not, all interested in learning more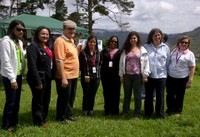 about management and experiences that characterize EoC. The Expo has created a space for dialogue and sharing of experiences between enterprises, businessmen and ordinary people, crossing frontiers and establishing fraternal relationships. The contact with a new reality and the interest to participate are what many have taken away from that day.
Greeting each other at the end of the day, the entrepreneurs are committed to continue the path undertaken.