Seminar in Paris on the occasion of 20 years of EoC
The Economy of Communion
issues and developments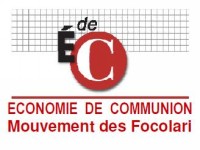 10 September 2011, at 9-17.30
23 avenue de Friedland
Paris 8ème
The seminar is organized by the Focolare Movement and the Institut Politique Léon Harmel (IPLH), on the occasion of the 20th anniversary of the launch of Economy of Communion. Founded in 1991 by Chiara Lubich, foundress of the Focolare Movement, the Economy of Communion embodies the gift and the fellowship in economic relations. TheInstitut Politique Léon Harmel, ain the light of Caritas in Veritate, wanted to join this trend of economy through a critical reflection.
see invitation
As part of the workshop the experts' analysis and testimony of real life can help better understand the intuition of EoC and its development,

the culture of giving and generosity underlying it. The specific contribution of the Economy of Communion will be studied in three laboratories dedicated to: new paradigms for the economy, a business practice that includes the gift, a culture of life for all.
Speakers: Luigino Bruni (University of Milan-Bicocca), Elena Lasida (Justitia et Pax), Gérard Thoris (Sciences Po Parigi), Michel Coquillon (CFTC)

Participation fee: € 25 (or € 12 without lunch)
Download the registration form and send to: This email address is being protected from spambots. You need JavaScript enabled to view it.
see file

Contact:  tel. 01 64 90 20 55
This email address is being protected from spambots. You need JavaScript enabled to view it. and This email address is being protected from spambots. You need JavaScript enabled to view it.

Further meetings to commemorate the 20 years of EoC will be held in various other cities of France, following are some dates:

Nantes 21 November 2011, Mulhouse 3 Dicember 2011,  Aix en Provence in January 2012.