On the occasion of Chira's third death anniversary and in celebration of the school's 50 years, the EoC is presented at the Catholic University of Santa Maria
Arequipa, Perù, Presentation of the EoC at the Catholic University of Santa Maria
by Silvano Roggero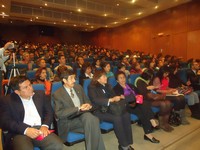 Last March 31 in
Arequipa
(
Perù
), on the occasion of
Chiara Lubich
's third death anniversary, the EoC, considered one of the multi-dimensional embodiments of her charisma, was presented. The initiative was undertaken by
the Catholic University of Santa Maria, the
biggest and the most prestigious institution in the city, as part of the 50-year anniversary celebration of their academic life.
The event was entitled "Economy of Communion: A new style of economic operation." The hall, which had a maximum capacity of 300 people, was full. In fact, they were forced to close the doors at the beginning of the conference for security reasons. The conference was publicized in the three principal schools of Arequipa.
The Rector opened the event thanking the Focolare Movement on behalf of the university. Thereafter, Professor
Henry Tapia
introduced the history of the EoC. This served as a background for the following talk of Prof.
Marroquin
entitled "
Economy of Communion: generosity, meeting, solidarity and development: A new style of Economic Operation
."
Hugo Marroquín Rivera, doctor in Economic and Corporate Administration, and professor at the University of the Pacific and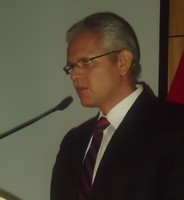 Saint Ignatius de Loyola of Lima, came to know of the Economy of Communion by chance in O'Higgins, Argentina. Since he first took part in an EoC meeting back in 2009, he has remained in contact with the movement and has taken particular interest in the Economy of Communion. He began his presentation with a video featuring Francis Ganzon on Bangko Kabayan's microcredit program in the Philippines. He then proceeded to elaborate with a powerpoint presentation. Generosity, communion, the culture of giving, solidarity and development, were among some of the highlighted points of his lecture. Both students and professors present in the hall were rigorously taking noted throughout the presentation. A question and answer session followed after.
At the end of the presentation, one of those present commented, "The human person is a relational being, a generous being. His/happiness in Giving generates a new order of values and a new creative game in our society. Having said this, the proposal of the Economy of Communion develops a new logic of entrepreneurial operation, founded on Communion and on Fraternity, which produces efficiency and creativity."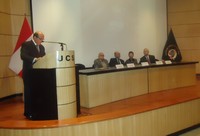 The following day Hugo Marroquin was interviewed by various members of the press -- from tv, radio and the newspaper, allowing a wider dissemination of the EoC in Arequipa and in the region. In his closing, the Rector was visibly happy and satisfied with the success of the event. Similar expositions are also forseen in the future.
To this day, many of those who found the theme interesting continue to communicate their ideas. A group of students in pedagogy has initiated a study on the Culture of Giving in the area of pedagogy. A businesswoman, presently struggling with her relationships with her employees, declared having found a new sense in her work. She has expressed the intention to introduce and live this reality in her business.